Divine Teaching: An Introduction to Christian Theology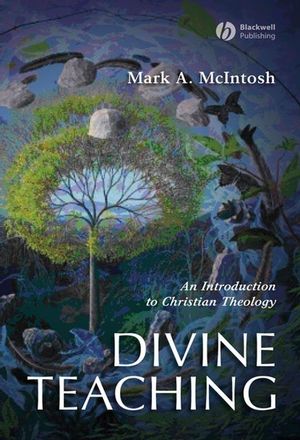 Divine Teaching: An Introduction to Christian Theology
ISBN: 978-1-119-46803-5
Sep 2017
272 pages
Description
This innovative work is an introduction to Christian theology with a difference. Not only does it interpret, with clarity and energy, fundamental Christian beliefs but it also shows how and why these beliefs arose, promoting an understanding of theological reflection that encourages readers to think theologically themselves.

From Irenaeus and Aquinas to Girard, from Augustine to Zizioulas and contemporary feminist thought, Divine Teaching explores the ways in which major thinkers in the Christian tradition have shaped theology through the wide variety of their encounters with God. It makes theological study adventurous and interactive, not necessarily requiring a faith commitment from all, but allowing readers a thoughtful involvement in the subject that takes seriously the Christian vision of God as the ultimate teacher of theology.

Divine Teaching: An Introduction to Christian Theology is an imaginative and lively analysis of the Christian way of thinking, offering vivid and informing insight into the history and practice of Christian theology.
Preface.
Part I: Becoming a Theologian.
1. How God makes Theologians.
Astonishment and Theological Virtue.
Resurrection to Pentecost: Where Christian Theology Begins.
But Can You Study Theology without Having to Believe?.
2. Strange Calling: Theologians as Adventurers, Pirates, Mystics, and Sages.
Adventure: Continuing Conversion of the Theologian.
Piracy: Thinking Analogically.
Mystical Life: Interpreting Reality in Terms of God.
Wisdom: Thinking by Means of God's Thoughts.
3. Divine Teaching and Christian Beliefs.
Theology's Weakness and Wisdom's Parting Gift.
Sacred Teaching: The Nature and Function of Christian Beliefs.
Visions of the Whole: Origen, Aquinas, and Barth.
How Not to Believe: The Dangers of Fantasy and Fanaticism.
Part II: Theology's Search for Understanding.
4. Salvation: The Foundation of Christian Theology.
ORIENTATION.
Why Start with Salvation?.
Salvation as the Basis for Christian Theology.
Identifying Different Approaches to the Mystery of Salvation.
5. Salvation: Meeting Heaven Face to Face.
LANDMARKS.
Irenaeus: Salvation and New Creation.
Brief Interlude: A Crucial Difficulty in Soteriology.
Augustine and God's Justice.
Anselm and the Divine Order.
PATHFINDING.
On the Death of Christ: Orthodox, Feminist, and Girardian Concerns.
Salvation and the Paschal Mystery.
6. Divine Life: Trinity, Incarnation, and the Breathing of the Spirit.
ORIENTATION.
Sheer Bliss: Why God Reveals Divine Life to be the Trinity.
Forgiveness and Abundance: Origins of Trinitarian Awareness.
The Life of the Incarnate Word and the Power of the Spirit.
The Developing Principles of Trinitarian Theology.
LANDMARKS.
Augustine on the Mysterious Attraction of the Trinity: How to Read The Trinity.
Karl Barth on the God Who Loves in Freedom.
PATHFINDING.
Questions in Trinitarian Theology Today.
The Trinity and Mystical Participation in God.
7. Creaturely Life: A Journey towards Beatitude.
ORIENTATION.
Death No Longer Has Dominion: Creation's Path in the Light of Easter.
Creation – Revelation – Sacrament.
Human Life – Ecclesial Life – Beatitude.
LANDMARKS.
Thomas Aquinas on Creation: "A Representation of the Divine Wisdom".
Blaise Pascal on Human Existence.
PATHFINDING.
Two Disputed Questions.
The Human Calling in Creation.
Notes.
Bibliography.
Index
"There are so many strengths to the book, many of which I've tried to point out. Chief among them is that this book is all about how we might actually learn about God from God, in our inmost being, not as bits of true information, but as an abiding light that will illuminate all other seeing and knowing." (Theophiliacs, 8 July 2011)
"Textbooks should only be written by genuine teachers who truly love their students. Mark McIntosh is clearly such a teacher." (Modern Theology, April 2010)"Astonishing in its combination of scope, acuity, and accessibility. In short, truly magisterial: this book is in all ways the product of a master theologian working at the top of his game."
Charles T. Mathewes, University of Virginia
"Mark McIntosh has earned a justifiable reputation for his deeply passionate and highly literate books on Christian theology. This work adds further proof that his excellent reputation is warranted. I can think of no better guide for anyone interested in how theologians go about their task as well as why that task is both a rigorous intellectual discipline and a liberating adventure of the heart."
Lawrence S. Cunningham, University of Notre Dame
"With its refreshingly original approach, this book offers an attractive and reliable introduction to newcomers to the subject as well as plenty to provoke old hands."
Fergus Kerr, University of Edinburgh
"To be commended for its refreshing approach and inclusive perspective, and should be a welcome read for theological novices as well as veterans."
Anglican Theological Review