Divorce For Dummies, 3rd Edition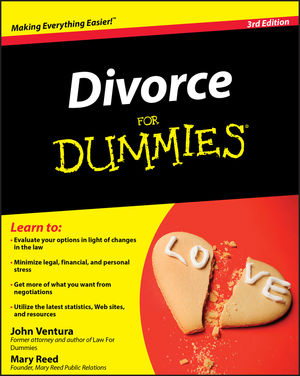 Divorce For Dummies, 3rd Edition
ISBN: 978-0-470-48536-1
Mar 2009
384 pages
Description
Since Divorce For Dummies, 2nd Edition published in 2005, there have been considerable changes in collaborative divorces, common law marriages, same sex marriages, visitation, and even custody laws (from children to pets). Divorce For Dummies, 3rd Edition includes 25 percent new, revised, and refreshed material covering all of the above.
Introduction.
Part I: When Your Marriage Is on the Rocks.
Chapter 1: Divorce Fundamentals.
Chapter 2: Avoiding a Divorce.
Chapter 3: Getting Your Finances in Order.
Chapter 4: Putting Your Marriage On Hold with a Separation.
Part II: Getting Your Divorce Going.
Chapter 5: Taking the First Steps.
Chapter 6: Breaking the News to Your Kids.
Chapter 7: Handling the Emotions of Divorce.
Part III: Deciding the Basic Issues in Your Divorce.
Chapter 8: Dividing Your Assets and Your Debts.
Chapter 9: Considering Spousal Support.
Chapter 10: Choosing the Best Custody Arrangement for Your Kids.
Chapter 11: Using Child Support to Provide For Your Children.
Part IV: Working Out the Details of Your Divorce.
Chapter 12: Negotiating Your Own Divorce.
Chapter 13: Finding a Divorce Attorney.
Chapter 14: Working Hand in Hand with Your Attorney.
Chapter 15: Using Mediation to End Divorce Stalemates.
Chapter 16: Letting a Judge or Jury Decide the Details of Your Divorce.
Part V: After You're Officially Divorced: Avoiding Problems and Handling Challenges.
Chapter 17: Focusing on Your Postdivorce Financial Life.
Chapter 18: Resolving the Stickiest Issues after Divorce.
Chapter 19: Putting Your Personal Life Back on Track.
Part VI: The Part of Tens.
Chapter 20: Ten Divorce to Check Out.
Chapter 21: Ten Ways to Help Your Kids Handle Your Divorce.
Chapter 22: Ten Tips for Getting On with Your Life.
Index.