Divorce and New Beginnings: A Complete Guide to Recovery, Solo Parenting, Co-Parenting, and Stepfamilies, 2nd Edition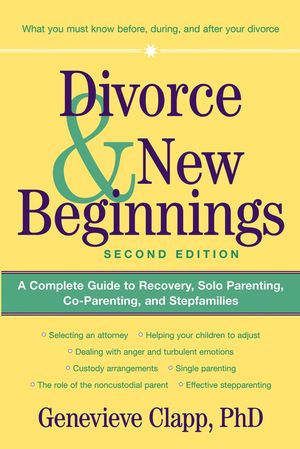 Divorce and New Beginnings: A Complete Guide to Recovery, Solo Parenting, Co-Parenting, and Stepfamilies, 2nd Edition
ISBN: 978-0-471-32648-9
Sep 2000
404 pages
Description
A timely revision of a compassionate guide to the practical and emotional aspects of divorce

The first edition of Divorce and New Beginnings helped countless men and women emerge from ruptured relationships and build new lives. Enriched with new insights uncovered by researchers and in the author's work with over 2,000 families, this sensitive guidebook provides a wealth of proven coping skills to help you weather the difficult times and eventually build new beginnings--for yourself and, if you have them, your children.

Genevieve Clapp is with you every step of the way as you deal with and recover from your divorce, addressing your daily problems and long-term concerns with a real-world practicality. Utilizing numerous case studies and coping tools, Clapp provides you with a road map of what lies ahead, including tips on navigating problematic situations such as choosing a lawyer and dealing with anger and anxiety. Geared directly to your specific needs, Divorce and New Beginnings will help you nurture healthy, committed relationships and successful stepfamilies, protect your children, and build a rewarding new life.
* Includes updated information on co-parenting and new romantic relationships
* Offers hundreds of practical suggestions and effective coping strategies based on the findings and collective insights of experts
* Features a strong focus on children and divorce, with a step-by-step guide on fostering their long-term adjustment
LAYING THE FOUNDATION: COPING SUCCESSFULLY WITH DIVORCE.

The Aftermath of Marriage.

Legal Fundamentals: What Everyone Should Know.

Stress and the Emotional Roller Coaster: Tools to Cope.

Feeling Defeated and Immobilized: How to Combat Depression.

What Do I Do with All This Anger?

CHILDREN AND DIVORCE.

Divorce through a Child's Eyes.

Critical Ingredients for Children's Adjustment.

Conflict!: The Number One Predictor of Children's Poor Adjustment after Divorce.

Fostering Children's Long-Term Adjustment: A Step-by-Step Guide.

REBUILDING A REWARDING SINGLE LIFE.

Your Emotional Divorce: Stepping-Stone to a Rewarding New Life.

Rebuilding.

Communicating with an Ex-Spouse: Ten Tools that Will Make the Difference.

New Romantic Relationships.

How to Create a Successful One-Parent Home.

The Parent without Custody: Dilemmas and Solutions.

CO-PARENTING CHILDREN AFTER DIVORCE.

Custody: What's the Real Scoop?

Parenting Plans: Blueprints for a Smooth Future.

Making Co-Parenting Work.

Ending the Conflict: A Step-by-Step Approach.

How to Discipline Effectively and Still Be a ""Good Guy"".

STEPFAMILIES.

Stepfamily Myths versus Stepfamily Reality.

Losing Strategies: Eight Common Paths to Serious Stepfamily Problems.

Learning What Works: Successful Strategies for Stepfamilies.

OVERVIEW AND APPENDICES.

Closing Remarks.

Appendices.

Notes.

Selected Sources.

Index.