Doc Holliday: The Life and Legend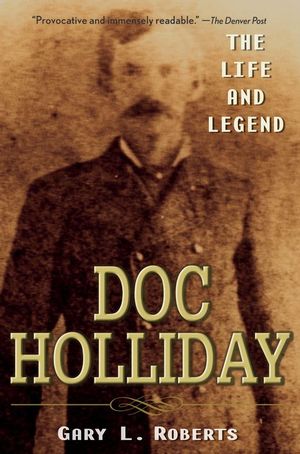 Doc Holliday: The Life and Legend
ISBN: 978-1-118-13097-1 May 2011 544 Pages
Description
Acclaim for Doc Holliday


"Splendid . . . not only the most readable yet definitive study of Holliday yet published, it is one of the best biographies of nineteenth-century Western 'good-bad men' to appear in the last twenty years. It was so vivid and gripping that I read it twice."
--Howard R. Lamar, Sterling Professor Emeritus of History, Yale University, and author of The New Encyclopedia of the American West

"The history of the American West is full of figures who have lived on as romanticized legends. They deserve serious study simply because they have continued to grip the public imagination. Such was Doc Holliday, and Gary Roberts has produced a model for looking at both the life and the legend of these frontier immortals."
--Robert M. Utley, author of The Lance and the Shield: The Life and Times of Sitting Bull

"Doc Holliday emerges from the shadows for the first time in this important work of Western biography. Gary L. Roberts has put flesh and soul to the man who has long been one of the most mysterious figures of frontier history. This is both an important work and a wonderful read."
--Casey Tefertiller, author of Wyatt Earp: The Life Behind the Legend

"Gary Roberts is one of a foremost class of writers who has created a real literature and authentic history of the so-called Western. His exhaustively researched and beautifully written Doc Holliday: The Life and Legend reveals a pathetically ill and tortured figure, but one of such intense loyalty to Wyatt Earp that it brought him limping to the O.K. Corral and into the glare of history."
--Jack Burrows, author of John Ringo: The Gunfighter Who Never Was

"Gary L. Roberts manifested an interest in Doc Holliday at a very early age, and he has devoted these past thirty-odd years to serious and detailed research in the development and writing of Doc Holliday: The Life and Legend. The world knows Holliday as Doc Holliday. Family members knew him as John. Somewhere in between the two lies the real John Henry Holliday. Roberts reflects this concept in his writing. This book should be of interest to Holliday devotees as well as newly found readers."
--Susan McKey Thomas, cousin of Doc Holliday and coauthor of In Search of the Hollidays
Table of contents
Acknowledgments.
Prologue: The Measure of a Man.
1 Child of the Southern Frontier.
2 The World Turned Upside Down.
3 Gone to Texas.
4 Cow Towns and Pueblos.
5 The Price of a Reputation.
6 Friends and Enemies.
7 The Fremont Street Fiasco.
8 Vengeance.
9 The Out Trail.
10 A Holliday in Denver.
11 A Living—and Dying—Legend.
12 The Anatomy of a Western Legend.
Epilogue: The Measure of a Legend.
Notes.
Index.