Dog Grooming For Dummies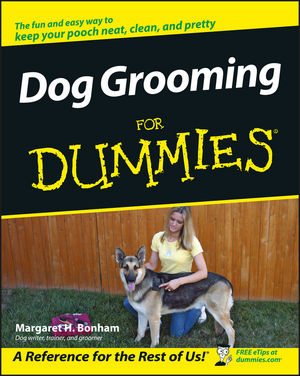 Dog Grooming For Dummies
ISBN: 978-1-118-05286-0 March 2011 384 Pages
Description
Handle grooming yourself to save money and bond with your dog
Brush, bathe, and clip your dog like a pro!
Whether your dog is destined for a career in the show ring or a spot on the living room couch, good grooming is important. This friendly guide shows you how to develop a grooming routine that will keep your dog clean - and strengthen the bond between you. It includes detailed, step-by-step grooming instructions for all types of coats.
Discover how to
Train your dog for grooming
Care for nails, teeth, and ears
Use clippers and scissors
Groom specific types of coats
Prepare a dog for the show ring
Table of contents
Introduction.
Part I: Getting Started.
Chapter 1: What Good Grooming Is All About.
Chapter 2: Inside and Out: What Affects a Dog's Coat and Grooming.
Chapter 3: Prepping for the Prettying.
Chapter 4: Training Your Dog for Grooming.
Part II: Making Your Dog Look Good:The Basics.
Chapter 5: Mastering Brushing and Bathing Basics.
Chapter 6: Caring for Your Canine's Teeth, Toes, Ears, Face, and Ahem, Other Areas.
Chapter 7: Giving Your Dog a Great 'Do: Clipping Basics.
Part III: Grooming by Coat Type: Beyond the Basics.
Chapter 8: Spiffing Up Short- and Medium-Coated Breeds.
Chapter 9: Warming Up to Double-Coated Breeds.
Chapter 10: Clarifying the Corded Breed's Coif.
Chapter 11: Shaping Up the Clipped Breeds.
Chapter 12: Beautifying the Stripped Breeds.
Chapter 13: Tidying the Tresses of the Long-Haired Breeds.
Chapter 14: Poodles: A Breed Apart.
Part IV: Grooming Specialties.
Chapter 15: Getting the Sticky and Stinky Stuff Out.
Chapter 16: The Skinny on Hairy Health Issues.
Chapter 17: Grooming Emergencies: Knowing Doggie First Aid.
Chapter 18: It's Showtime! Grooming a Dog for the Ring.
Chapter 19: Going Pro: Starting a Dog Grooming Business.
Part V: The Part of Tens.
Chapter 20: Ten Popular Myths About Grooming Dogs.
Chapter 21: Ten Timesaving Grooming Tips.
Chapter 22: Ten Best Ways to Make Grooming a Pleasant Experience.
Appendix: Grooming Resources.
Index.