Dog Training For Dummies, 3rd Edition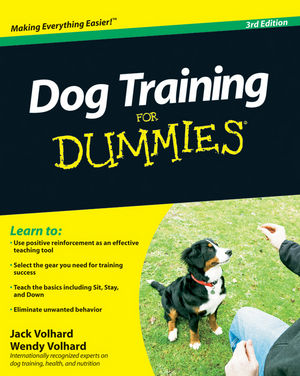 Dog Training For Dummies, 3rd Edition
ISBN: 978-0-470-60029-0 July 2010 416 Pages
Description
Make training fun and effective
This friendly guide shows you how to select the right training method for your dog, based on his unique personality, to reach your desired goals. Whether you want to teach Buddy to sit or master retrieving, you'll get expert training tips and techniques for you and your dog — to ensure a mutually respectful relationship with your four-legged friend.
Concentrate on canines — discover why your dog acts the way she does, understand her nutritional needs, and ready yourself for the task of training your dog

Prep for your pup — prepare your home for your puppy's arrival, discover the importance of socialization, and get started on housetraining

Put your best paw forward — teach basic commands like Sit, Stay, and Down, and get the scoop on how to deal with doggie don'ts like chewing, digging, and excessive barking

Take training to the next level — get involved in organized dog activities and competitions, where you'll both show off impressive tricks like retrieving, figure 8s, and much more
Open the book and find:
Step-by-step instructions for teaching your dog basic commands

Helpful advice on crate training

Safe ways to address aggression and separation anxiety

Tips for teaching Buddy to behave himself around people and other dogs

Techniques to keep your senior dog feeling young

Health issues that can interfere with training

Experts to turn to for training help
Learn to:
Use positive reinforcement as an effective teaching tool

Select the gear you need for training success

Teach the basics including Sit, Stay, and Down

Eliminate unwanted behavior
Table of contents
Introduction.
Part I: Setting the Stage for Successful Training.
Chapter 1: Dog Training: The Key to Your Dog's Safety and Your Sanity.
Chapter 2: Canine Psychology 101: Getting to Know Your Dog.
Chapter 3: Developing Training Savvy.
Chapter 4: Understanding the Vital Role Nutrition and Health Play in Training.
Chapter 5: Gearing Up for Training Success.
Part II: Performing Puppy Preliminaries.
Chapter 6: Surviving Your Puppy's Growth Periods.
Chapter 7: Starting Puppy on the Right Paw.
Chapter 8: Honing In on Housetraining.
Part III: Tackling Training Basics.
Chapter 9: Mastering Some Fundamentals: Sit, Down, Stay, and Leave It.
Chapter 10: Canine Cruise Control: Walking on Leash and Coming When Called.
Chapter 11: Dealing with Common Doggie Don'ts.
Part IV: Taking Training to the Next Level.
Chapter 12: Participating in AKC S.T.A.R. Puppy and Canine Good Citizen Programs.
Chapter 13: Training for Fun and Competition.
Chapter 14: Completing the Companion Dog Title.
Chapter 15: Retrieving.
Part V: Dealing with Special Situations.
Chapter 16: Addressing Aggression.
Chapter 17: Helping Your Hound Handle Special Situations.
Chapter 18: Teaching an Old Dog New Tricks: Keeping Your Senior Young.
Chapter 19: Supplementing Your Training Efforts with Expert Help.
Part VI: The Part of Tens.
Chapter 20: Ten Training Traps and How to Avoid Them.
Chapter 21: Ten Fun and Exciting Sporting Activities.
Chapter 22: Ten Reasons Dogs Do What They Do.
Chapter 23: Ten Tricks for Fun and Games.
Index.