Doing Business in India For Dummies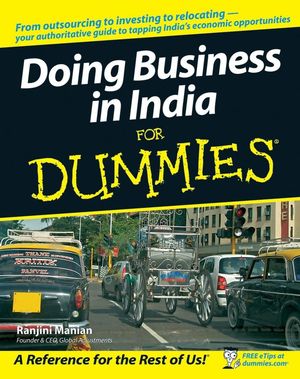 Doing Business in India For Dummies
ISBN: 978-1-118-05163-4
Feb 2011
360 pages
Description
India is booming! This practical, easy-to-understand guide covers all the basics of setting up and growing your business in India, from choosing a location and selecting your Indian team to understanding the legal system, evaluating business partners, and settling disputes. You also get handy tips in financing, marketing, and manufacturing, as well as doing business from abroad.
Develop a strong business plan
Train and manage your Indian team
Cut through bureaucratic red tape
Build lucrative relationships
Overcome communication challenges
Introduction.
Part I: Brushing Up on India Business Basics.
Chapter 1: So You Want to Do Business with India.
Chapter 2: Understanding Breaks and Brakes in Emergent India.
Chapter 3: Making Sense of India: A Business Viewpoint.
Part II: Getting Your Business Up and Running.
Chapter 4: Putting Together a Business Plan.
Chapter 5: Starting Up in India.
Chapter 6: Doing Business from Abroad: The Long Distance Relationship.
Chapter 7: Building Your Team India.
Chapter 8: Dealing with the Powers That Be.
Chapter 9: Counting Your Rupees and Paise.
Part III: Going About Your Business in India.
Chapter 10: Enjoying Your Stay in India.
Chapter 11: Making the Sale.
Chapter 12: Establishing a Manufacturing Presence.
Chapter 13: Legal Landmines.
Part IV: Ensuring an Indian Success Story.
Chapter 14: Understanding Indian Culture.
Chapter 15: Being on Your Best Behavior: Indian Etiquette.
Chapter 16: Avoiding Potholes on the Road to Success.
Part V: The Part of Tens.
Chapter 17: Ten Tips for Training Your Team India.
Chapter 18: Ten Cultural Tips.
Chapter 19: Ten Tips from Chanakya, the World's First Management Guru.
Chapter 20: Ten Ways to Enjoy Your Downtime in India.
Index.
""This practical, easy to understand guide covers all the basics of setting up and growing your business in India""  (Retail & Leisure International, December 2007)