Doing Business in the US: Legal Opportunities and Pitfalls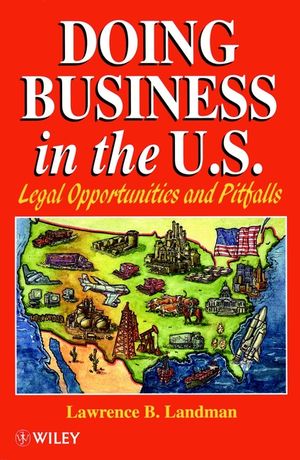 Doing Business in the US: Legal Opportunities and Pitfalls
ISBN: 978-0-471-96160-4 September 1997 326 Pages
Description
To succeed in the US, non-American managers must understand thebasics of American law. Doing Business in the US uses marketingstrategy to identify the areas of American law which have thegreatest impact on a firm s success or failure. It then explainsthese areas of law clearly and concisely. The book is written formanagers, and contains no jargon. It is written for non-Americans,and explains the law from the perspective of someone living outsidethe United States. Doing Business in the US helps managers answerquestions such as:
* How will US product liability laws affect my business?
* Why should I agree to mediate a dispute?
* How much will it cost my firm if it violates a contract?
* Will a license agreement allow me to earn profits from the USwhile still avoiding the risks and costs of entering the marketdirectly?
* How can I ensure that someone will not sue my firm based on theactions of the firm s American sales agent?
At a fraction of the cost, the author offers the same advice anattorney would give in an initial consultation. The book thereforeallows managers to quickly ask attorneys and business associatesinsightful questions, and thus save time and money. Written inhighly accessible English, Doing Business in the US is the firstbook any executive, business strategist, or entrepreneur shouldread to understand how the law affects, or will affect, his or herAmerican business.
Table of contents
EXPORTING GOODS TO THE UNITED STATES.

Agent and Distributor Agreements: Selling in America.

Bringing Goods into the United States: Handling CustomsEffectively.

ESTABLISHING A PRESENCE IN THE US MARKET.

Corporations, Partnerships, and Joint Ventures: Establishing aBusiness in the United States.

SELLING IDEAS.

Commercial Intellectual Property: Protecting Valuable Ideas.

Licensing: The Technology Transfer Agreement.

THE BUSINESS ENVIRONMENT.

Product Liability: Managing Risk.

Contracting: Creating Binding Obligations.

Warranties and Fraud: The Promises You Make.

Court System: Lawsuits and Arbitration.

Index.