Doing Child and Adolescent Psychotherapy: Adapting Psychodynamic Treatment to Contemporary Practice, 2nd Edition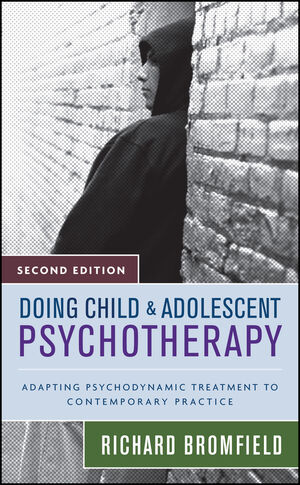 Doing Child and Adolescent Psychotherapy: Adapting Psychodynamic Treatment to Contemporary Practice, 2nd Edition
ISBN: 978-0-470-14585-2 March 2007 320 Pages
Description
This readable guide for therapists and therapists-in-training lays out the theoretical essence and practical essentials of doing child and adolescent psychotherapy from the referral call to the last goodbye.
What's New to the Second Edition ix
Preface to the First Edition xiii
Acknowledgments xv
To the Reader xvii
Part I The Essentials
1 Easy Does It: Beginning Therapy 3
2 Can I Help You? Evaluating the Child and Offering Treatment 15
3 The Not-So-Magic of Therapy: How Therapy Works 29
4 Do Fence Me In: The Bounds and Limits 47
5 Tell Me Where It Hurts: On Talking and Querying 63
Part II Techniques and Tools
6 The Lowdown on High Drama: Playing with Puppets and Action Figures 77
7 Shoot, Topple, and Roll: Using Games, Building Toys, and Guns 89
8 Drawing Out the Child: Artwork in Therapy 105
9 All Together Now: Balancing Play and Talk 125
10 Pushing the Envelope: On Giving, Telling, and Other Exceptions 141
Part III The Rest
11 Handle with Care: Working with Parents 161
12 Handle with Care, Part II: More Work with Parents 177
13 On Brotherly Love and Musical Chairs: Family Work 187
14 Talking Heads: Working with Schools and Other Agencies 199
15 Hard Times: Unwilling Patients and Therapeutic Crises 209
16 Getting to Know You, Getting to Know Me: aRace, Religion, and Culture 227
17 When Therapy Is Not Enough: Medication 239
18 I Can Name That Tune in Six Sessions: Managed Care and Evidence-Based Treatment 249
19 All's Well That Ends Well: Closing Therapy 261
References 277
Index 283
About the Author 293
•  Outlines the debate between evidence-based therapies and relationship-based therapies and shows how to use the power of each.
•  New edition includes more on therapeutic drugs; integrating therapy tools including cognitive, behavioral, and educational interventions; practicing within the confines of managed care; and provides direction for interested readers to the germane literature supporting the text's advice.
•  Only book to combine practical and thorough coverage with a readable suitable for mental health professionals of any theoretical school who value the therapeutic relationship.