Doing It Right the First Time: A Short Guide to Learning From Your Most Memorable Errors, Mistakes, and Blunders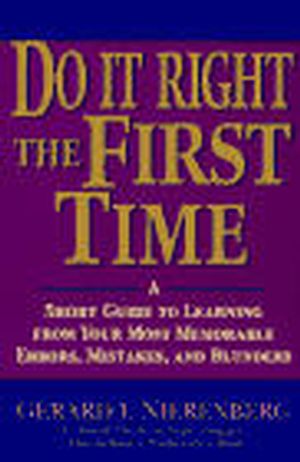 Doing It Right the First Time: A Short Guide to Learning From Your Most Memorable Errors, Mistakes, and Blunders
ISBN: 978-0-471-14889-0
Sep 1996
310 pages
Description
The ultimate guide to identifying and reducing mishaps--both at work and in life

Your mistakes need not be a fact of life. We can all learn to make fewer of them. In Do It Right the First Time, world renowned personal improvement guru Gerard Nierenberg shows us just how we can reduce the number of errors we make--both in and out of life and the workplace. Nierenberg's Error Awareness System teaches us how to increase our sensitivity and cut down on the errors we make--and guard against those made by others that affect us. He shows us how to identify the causes of our errors, how to deal with them--and most importantly--how to prevent them from recurring. Packed with real-life examples, discussion questions, checklists, and helpful exercises, Do It Right the First Time covers:
* Ways to reduce errors in critical thinking and judgment
* Improving memory
* Recognizing patterns in error
* How managers and supervisors can reduce errors--awareness and action, effective feedback, quality control, with no shame, no blame
* Concentration and accuracy--focusing on the job at hand
* Clerical errors and what they cost--understanding transportation, omission, insertion, repetition, substitution
* How to turn mistakes into benefits


For all professionals, academics, and businesspeople, including managers, supervisors, and anyone who simply wants to reduce the number of errors in his or her life, this unique book is indispensable.
Partial table of contents:

THE ERRORS OF OUR WAYS.

No Shame, No Blame.

The Error-Awareness System.

THE TYPES OF ERRORS WE MAKE.

Errors in Transcription.

Mistakes in Meaning.

THE HIGH COST OF ERRORS.

The Snowball Effect.

What It Costs When We Don't Protect Ourselves from Others' Errors: A Critical Look at Medicine.

THE CAUSES OF OUR ERRORS.

How to Cut Down on Reading Errors.

Classifying the Causes of Error.

STRATEGIES TO REDUCE YOUR ERRORS.

Improving Your Memory.

Managing and Supervising to Reduce Errors.

No Shame, No Blame, Revisited.

Index.