Dolomites: A Volume in Honour of Dolomieu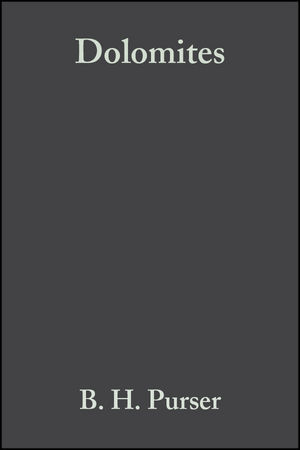 Dolomites: A Volume in Honour of Dolomieu
ISBN: 978-1-444-30407-7
Apr 2009, Wiley-Blackwell
464 pages
Description
This volume contains 23 state-of-the-art papers presented at the Dolomieu Conference on Carbonate Platforms and Dolomitization held in September 1991 in Ortisei, Italy. The conference was co-sponsored by the International Association of Sedimentologists (IAS) and the Society for Sedimentary Geology (SEPM), and marked the 200th anniversary of the 1791 paper by Deodat de Dolomieu describing dolomite in detail for the first time. The papers presented do not aim to give a complete review of the current state of the dolomitic art, but rather discuss important advances and gaps in our knowledge of dolomitization.



State-of-the-art papers from worldwide experts.

Includes basic science and economic applications.
1. Introduction
.
Problems, Progress And Future Research Concerning Dolomites And Dolomitization.
Dolomieu And The First Description Of Dolomite.
Summary.
2. Sabkha, Evaporitic And Reflux Dolomitization Models.
Salina Sedimentation And Diagenesis: West Caicos Island, British West Indies.
Mechanisms Of Complete Dolomitization In A Carbonate Shelf: Comparison Between The Novian Dolomia Principale (Italy) And The Holocene Of Abu Dhabi Sabkha.
Changing Dolomitization Styles From Norian To Rhaetian In The Southern Tethus Realm.
Distribution, Petrography And Geochemistry Of Early Dolomite In Cyclic Shelf Facies, Yates Formation (Guadalupian), Capitan Reef Complex, USA.
3. Mixing Zone And Seawater Dolomitization Models.
Dolomitization By Near-Normal Seawater? Field Evidence From The Bahamas.
Late Cenozoic Dolomites Of The Bahamas: Metastable Analogues For The Genesis Of Ancient Platform Dolomites.
Dolomitization Caused By Water Circulation Near The Mixing Zone: An Example From The Lower Visean Of The Campine Basin (Northern Belgium).
4. Urial Dolomitization Models.
Burial Dolomitization Of The Middle Ordovician Glenwood Formation By Evaporitic Brines, Michigan Basin.
Petrographic, Geochemical And Structural Constraints On The Timing And Distribution Of Postliterification Dolomite In The Rhaetian Portoro ('Calcare Nero') Of The Portovenere Area, La Spezia, Italy.
Has Burial Dolomitization Come Of Age? Some Answers From The Western Canada Sedimentary Basin.
Burial And Hydrothermal Diagenesis Of Ordovician Carbonates From The Michigan Basin, Ontario, Canada.
Progressive Recrystallization And Stabilization Of Early-Stage Dolomite: Lower Ordovician Ellenburger Group, West Texas.
Dolomite Reservoirs.
Nature, Origins And Evolution Of Porosity In Dolomites.
Permeability And Porosity Evolution In Dolomitized Upper Cretaceous Pelagic Limestones Of Central Tunisia.
Porosity Evaluation Through Hypersaline Reflux Dolomitization.
5. Petrology And Geochemistry Of Dolomites.
Synthesis Of Dolomite And Geochemical Implications.
Discontinuous Solid Solution In Ca-Rich Dolomites: The Evidence And Implications For The Interpretation Of Dolomite Petrographic And Geochemical Data.
Rates Of Dolomitization: The Influence Of Dissolved Sulphate.
Pervasive Dolomitization Of A Subtidal Carbonate Ramp, Silurian And Devonian, Illinois Basin, USA.
6. Dolomitization And Organic Matter.
Organic Matter Distribution, Water Circulation And Dolomitization Beneath The Abu Dhabi Sabkha (United Arab Emirates).
Burial Dolomitization Of Organic Rich And Organic Poor Carbonates, Jurassic Of Central Tunisia.
Index


State-of-the-art papers from worldwide experts.


Includes basic science and economic applications.