Domesticating Neo-Liberalism: Spaces of Economic Practice and Social Reproduction in Post-Socialist Cities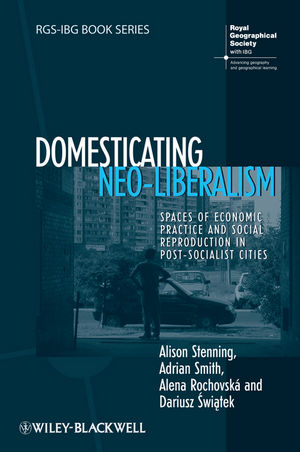 Domesticating Neo-Liberalism: Spaces of Economic Practice and Social Reproduction in Post-Socialist Cities
ISBN: 978-1-444-32540-9 July 2010 Wiley-Blackwell 320 Pages
Description
Based on in-depth research in Poland and Slovakia, Domesticating Neo-Liberalism addresses how we understand the processes of neo-liberalization in post-socialist cities.
Builds upon a vast amount of new research data
Examines how households try to sustain their livelihoods at particularly dramatic and difficult times of urban transformation
Provides a major contribution to how we theorize the geographies of neo-liberalism
Offers a conclusion which informs discussions of social policy within European Union enlargement
List of Plates, Figures and Tables.
Series Editor's Preface.
Preface and Acknowledgements.
1. Domesticating Neo-Liberalism and the Spaces of Post-Socialism.
2. Neo-Liberalism and Post-Socialist Transformations.
3. Domesticating Economies: Diverse Economic Practices, Households and Social Reproduction.
4. Work: Employment, Unemployment and the Negotiation of Labour Markets.
5. Housing: Markets, Assets and Social Reproduction.
6. Land and Food: Production, Consumption and Leisure.
7. Care: Family, Social Networks and the State.
8. Conclusion.
Bibliography.
Appendix 1: Summary Information on Interviewed Households.
Appendix 2: Semi-Structured Interviews with Key Informants.
Index.
"Thanks to its nuanced and multi-layered take on the geographical dimensions of employment, home, land and food provision in late capitalism, this monograph will become essential reading for scholars in the domains of post-socialist area studies, geography, economics, anthropology and sociology, in addition to social, urban and economic development policy practitioners."  (Royal Geographical Society, 2012)
"This book makes a valuable contribution to the theorization of neoliberalization by extending it to the realm of the everyday household economy. It is grounded in rich empirical research in working class neighbourhoods in Bratislava and Krakow and argues that households mitigate and tolerate the pernicious social costs of neoliberal reform to achieve social reproduction." (Yahoo Finance, 2 November 2010)