Don't Jump to Solutions: Thirteen Delusions That Undermine Strategic Thinking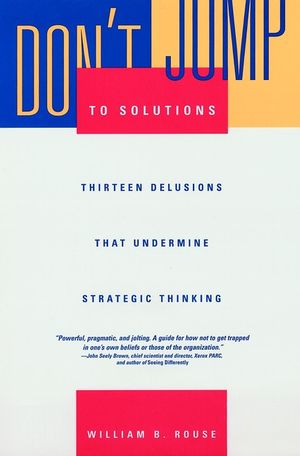 Don't Jump to Solutions: Thirteen Delusions That Undermine Strategic Thinking
ISBN: 978-0-787-90998-7
Jan 1998, Jossey-Bass
182 pages
Description
Strategic planning expert William Rouse cuts to the heart of the most common causes of failed business plans and strategies and shows how to overcome them. He encourages strategic thinkers and planners to spend much more time analyzing a situation instead of jumping to ready solutions. The tone is tongue-in-cheek, but the keen observations and sage advice Rouse offers aptly address a serious subject. It's a fast-track primer in critical thinking and evaluation planners and managers at every level can use to approach their work more effectively.
Introduction: The Perils of Acting First and Thinking Later.

Part One: Challenge Commonly Held Assumptions.

1. We Have A Great Plan:Comparing Visions and Realities.

2. We Are Number One:Letting Go of the World Class Myth.

3. We Own The Market:Assessing Relationships with Markets.

Part Two: Establish Goals That Make a Difference.

4. We Have Already Changed:Moving Beyond the Status Quo.

5. We Know the Right Way:Overcoming Obsessions With Technical Correctness.

6. We Just Need One Big Win:Avoiding Chasing Purple Rhinos.

7. We Have Consensus:Managing Conflicts of Values and Priorities.

8. We Have to Make the Numbers:Balancing Short Term and LongTerm.

Part Three: Make Sure That Plans Lead to Actions.

9. We Have the Ducks Lined Up:Navigating the Tangled Webs of Relationships.

10. We Have the Necessary Processes:Avoiding Institutionalized Conflicts.

11. We Just Have to Execute:Maintaining Commitment and Action.

Part Four: Expect the Unexpected.

12. We Found It Was Easy:Making Sure You Don't Skip the Hard Part.

13. We Succeeded as We Planned:Placing Yourself in the Path of Serendipity.

Appendix: Seventy Key Questions.
"Powerful, pragmatic, and jolting. A guide for how not to get trapped in one's own beliefs or those of the organization." (John Seely Brown, chief scientist and director, Xerox PARC, and author of Seeing Differently)

"Somehow Bill Rouse always seems to read my mind. His books give me a new perspective for my thinking on the very problems that are deviling our business right then. This latest treatise is no exception!" (Thomas R. Oliver, chairman and CEO, Holiday Inn Worldwide)

"This is a powerful and practical handbook for organizational consultants as well as business leaders." (Joyce L. Shields, Ph.D., managing director, Hay Management Consultants)

"William Rouse has done an excellent job of identifying the key ?delusions' that often undermine strategic thinking. More importantly, he has developed a number of insightful strategies for moving beyond them." (John R. Seffrin, Ph.D., CEO, American Cancer Society)

"Those submitting strategic planning to the dictate of firmly established assumptions will find, while reading this book, the necessity and the courage to fundamentally reconsider those premises." (Christoph Meier, managing director, CIM Center of Western Switzerland)