Downstream Industrial Biotechnology: Recovery and Purification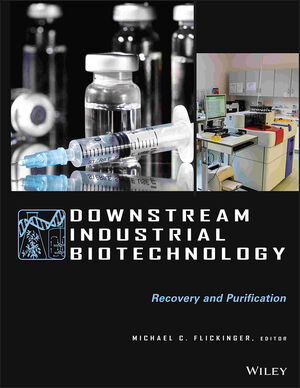 Downstream Industrial Biotechnology: Recovery and Purification
ISBN: 978-1-118-61898-1 July 2013 872 Pages
Download Product Flyer
Download Product Flyer
Download Product Flyer is to download PDF in new tab. This is a dummy description. Download Product Flyer is to download PDF in new tab. This is a dummy description. Download Product Flyer is to download PDF in new tab. This is a dummy description. Download Product Flyer is to download PDF in new tab. This is a dummy description.
Description
An affordable, easily accessible desk reference on biomanufacturing, focused on downstream recovery and purification
Advances in the fundamental knowledge surrounding biotechnology, novel materials, and advanced engineering approaches continue to be translated into bioprocesses that bring new products to market at a significantly faster pace than most other industries. Industrial scale biotechnology and new manufacturing methods are revolutionizing medicine, environmental monitoring and remediation, consumer products, food production, agriculture, and forestry, and continue to be a major area of research.
The downstream stage in industrial biotechnology refers to recovery, isolation, and purification of the microbial products from cell debris, processing medium and contaminating biomolecules from the upstream process into a finished product such as biopharmaceuticals and vaccines.
Downstream process design has the greatest impact on overall biomanufacturing cost because not only does the biochemistry of different products ( e.g., peptides, proteins, hormones, antibiotics, and complex antigens) dictate different methods for the isolation and purification of these products, but contaminating byproducts can also reduce overall process yield, and may have serious consequences on clinical safety and efficacy. Therefore downstream separation scientists and engineers are continually seeking to eliminate, or combine, unit operations to minimize the number of process steps in order to maximize product recovery at a specified concentration and purity.
Based on Wiley's Encyclopedia of Industrial Biotechnology: Bioprocess, Bioseparation, and Cell Technology, this volume features fifty articles that provide information on down- stream recovery of cells and protein capture; process development and facility design; equipment; PAT in downstream processes; downstream cGMP operations; and regulatory compliance.
It covers:
Cell wall disruption and lysis
Cell recovery by centrifugation and filtration
Large-scale protein chromatography
Scale down of biopharmaceutical purification operations
Lipopolysaccharide removal
Porous media in biotechnology
Equipment used in industrial protein purification
Affinity chromatography
Antibody purification, monoclonal and polyclonal
Protein aggregation, precipitation and crystallization
Freeze-drying of biopharmaceuticals
Biopharmaceutical facility design and validation
Pharmaceutical bioburden testing
Regulatory requirements
Ideal for graduate and advanced undergraduate courses on biomanufacturing, biochemical engineering, biophar- maceutical facility design, biochemistry, industrial microbiology, gene expression technology, and cell culture technology, Downstream Industrial Biotechnology is also a highly recommended resource for industry professionals and libraries.
Table of contents
Preface ix
Contributors xi
PART I INTRODUCTION 1
1 Bioprocess Design, Computer-Aided 5
Victor Papavasileiou, Charles Siletti, Alexandros Koulouris, and Demetri Petrides
PART II DOWNSTREAM RECOVERY OF CELLS AND PROTEIN CAPTURE 25
2 Cell Separation, Centrifugation 27
Hans Axelsson
3 Cell Disruption, Micromechanical Properties 49
Ingo Kampen and Arno Kwade
4 Cell Separation, Yeast Flocculation 65
Eduardo V. Soares
5 Cell Wall Disruption and Lysis 81
F. A. P. Garcia
6 Expanded Bed Chromatography, Surface Energetics of Biomass Deposition 95
Marcelo Fernandez Lahore, Oscar Aguilar, Rami Reddy Vennapusa and Muhammad Aasin
7 Filter Aids 107
Tony Hunt
8 Protein Adsorption, Expanded Bed 115
Siddartha Ghose
PART III PROCESS DEVELOPMENT IN DOWNSTREAM PURIFICATION 127
9 Scaledown of Biopharmaceutical Purification Operations 129
Anurag S. Rathore and Varsha S. Joshi
10 Adsorption in Simulated Moving Beds (SMB) 147
Cesar C. Santana, Ivanildo J. Silva Jr., Diana C. S. Azevedo, and Amaro G. Barreto Jr.
11 Adsorption of Proteins with Synthetic Materials 179
Joseph McGuire and Omkar Joshi
12 Affinity Fusions for Protein Purification 191
Susanne Gräslund and Martin Hammarström
13 Bioseparation, Magnetic Particle Adsorbents 201
Urs Alexander Peuker, Owen Thomas, Timothy John Hobley, Mathias Franzreb, Sonja Berensmeier, Maria Shäfer, and Birgit Hickstein
14 High Throughput Technologies in Bioprocess Development 221
Trent Carrier, Eva Heldin, Mattias Ahnfelt, Eggert Brekkan, Richard Hassett, Steve Peppers, Gustav Rodrigo, Greg Van Slyke, and David (Xiqaojian) Zhao
15 Large-Scale Protein Purification, Self-Cleaving Aggregation Tags 257
Iraj Ghazi and David W. Wood
16 Lipopolysaccharide, LPS removal, Depyrogenation 269
Pérola O. Magalhães and Adalberto Pessoa Jr.
17 Porous Media in Biotechnology 277
Manuel Mota, Alexander Yelshin, and Inna Yelshina
18 Protein Aggregation and Precipitation, Measurement and Control 293
Catherine H. Schein
PART IV EQUIPMENT DESIGN FOR DOWNSTREAM RECOVERY AND PROTEIN PURIFICATION 325
19 Cleaning and Sanitation in Downstream Processes 327
Gail Sofer, Craig Robinson, Joanthan Yourkin, Tina Pitarresi, and Darcy Birse
20 Clean-in-place 343
Phil J. Bremer and Richard Brent Seale
21 Large Scale Chromatography Columns, Modeling Flow Distribution 353
Zhiwu Fang
22 Pumps, Industrial 373
Bob Stover and Ed Domanico
PART V DOWNSTREAM cGMP OPERATIONS 389
23 Affinity Chromatography of Plasma Proteins 391
Mirjana Radosevich and Thierry Burnouf
24 Antibody Purification, Monoclonal and Polyclonal 405
James J. Reilly and Michiel E. Ultee
25 Chromatographic Purification of Virus Particles 415
Pete Gagnon
26 Chromatography, Hydrophobic Interactions 437
Per Karsnäs
27 Chromatography, Radar Flow 449
Tingyue Gu
28 Drying, Biological Materials 465
Chung Lim Law and Arun S. Mujumdar
29 Freeze-Drying, Pharmaceuticals 485
Jinsong Liu
30 Freezing, Biopharmaceutical 505
Philippe Lam and Jamie Moore
31 Membrane Chromatography 521
John Pieracci and Jörg Thömmes
32 Membrane Separations 545
Manohar Kalyanpur
33 Plasmid Purification 557
H .S. C. Barbosa and J. C. Marcos
34 Protein Chromatography, Manufacturing Scale 571
Joseph Bertolini
35 Protein Crystallization, Kinetics 579
Gianluca Di Profio, Efrem Curcio, and Enrico Drioli
36 Protein Purification, Aqueous Liquid Extraction 603
Maria-Regina Kula and Klaus Selber
37 Protein Ultrafiltration 617
Robert van Reis and Andrew L. Zydney
38 Virus Retentive Filters 641
George Miesegaes, Scott Lute, Hazel Aranha, and Kurt Brorson
PART VI BIOPHARMACEUTICAL FACILITY VALIDATION 655
39 Biopharmaceutical Facility Design and Validation 657
Jeffrey N. Odum
40 Closed Systems in Bioprocessing 677
Jeffrey Odum
41 Facility Design for Single Use (SU) Downstream Materials 685
Robert Z. Maigetter, Tom Piombino, Christian Wood, Tom Gervais, Claudio Thomasin, Bryan Shingle, Dave A. Wareheim, and David Clark
42 eGMPs for Production Rooms 715
Claude Arlois, Jean Didelez, Patrick Florent, and Guy Godeau
43 Heating, Ventilation, and Air Conditioning 731
Dennis Dobie
44 Sterilization-in-Place (SIP) 747
P. T. Noble
PART VII FDA cGMP REGULATORY COMPLIANCE 757
45 Pharmaceutical Bioburden Testing 759
Nathaniel G. Hentz, PhD
46 Chromatography, Industrial Scale Validation 775
Sandy Weinberg and Carl A. Rockburne
47 GMPs and GLSPs 795
Beth H. Junker
48 Quality by Design (QBD) 815
Rakhi B. Shah, Jun T. Park, Erik K. Read, Mansoor A. Khan, and Kurt Brorson
49 Regulatory Requirements, European Community 829
Gary Walsh
Index 843
Reviews
"The reference should be valuable to industry professionals as well as to advanced students of biomanufacturing, biochemical engineering, biopharmaceutical facility design, biochemistry, industrial microbiology, gene expression technology, and cell culture technology."  (Chemical Engineering Progress, 1 August 2013)