Dragon NaturallySpeaking For Dummies, 3rd Edition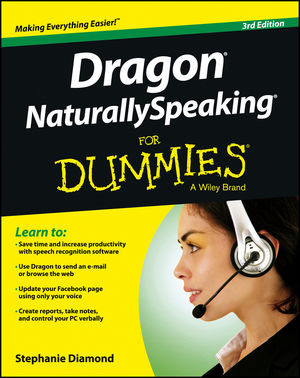 Dragon NaturallySpeaking For Dummies, 3rd Edition
ISBN: 978-1-118-67125-2
May 2013
384 pages
Product not available for purchase
Description
Learn to speak Dragon with For Dummies!
Fully updated for the latest speech recognition tools and features, this bestselling guide helps you conquer Dragon NaturallySpeaking and gets you started creating documents, sending e-mail, searching the web, and more using only your voice. You?ll learn Dragon basics like dictation, formatting, and proofreading before moving on to more advanced options including posting to social media sites, developing custom commands, troubleshooting, and improving communication with Dragon.
Explains the ins and outs of voice-recognition software and the wealth of possibilities available in Dragon NaturallySpeaking
Discusses how Dragon NaturallySpeaking allows you to interact with and command you PC, cruise through e-mail, update Facebook, surf the web, and create reports just by speaking
Shows you how to increase your productivity at work and stay organized on the go with Dragon NaturallySpeaking
Reveals time-saving tips, mistakes to avoid, and the most common issues you may encounter when getting started with Dragon NaturallySpeaking
Stop "dragon" your feet and get started with Dragon Naturally Speaking For Dummies, 3rd Edition today!
Introduction 1
Part I: Getting Started with Dragon NaturallySpeaking 7
Chapter 1: Knowing What to Expect 9
Chapter 2: Installing Dragon and Starting Basic Training 21
Chapter 3: Launching and Controlling Dragon 35
Part II: Creating Documents and Spreadsheets 51
Chapter 4: Simply Dictating 53
Chapter 5: Selecting, Editing, and Correcting in DragonPad 73
Chapter 6: Basic Formatting in Text-Editing Applications 87
Chapter 7: Proofreading and Listening to Your Text 99
Chapter 8: Dictating into Other Applications 107
Chapter 9: Dipping into Word Processing 121
Chapter 10: Working with Excel 139
Chapter 11: Using Recorded Speech 147
Part III: Communicating Online 163
Chapter 12: Sending and Receiving E-Mail 165
Chapter 13: Working the Web 179
Chapter 14: Playing Media with the LifeStyle Speech Pack 189
Chapter 15: Dictating the Mobile Way 199
Part IV: Controlling Windows 217
Chapter 16: Controlling Your Desktop and Windows by Voice 219
Part V: Working Smarter 239
Chapter 17: Speaking More Clearly 241
Chapter 18: Additional Training for Accuracy 247
Chapter 19: Improving Audio Input 267
Chapter 20: Having Multiple Computers or Users 275
Chapter 21: Creating Your Own Commands 283
Chapter 22: Getting Help from Your Desktop and Online 295
Part VI: The Part of Tens 315
Chapter 23: Ten Common Problems 317
Chapter 24: Ten Time-and-Sanity-Saving Tips 325
Chapter 25: Ten Mistakes to Avoid 331
Chapter 26: Ten Stupid Dragon Tricks 337
Index 345
10 Reasons to Arm Yourself with Dragon NaturallySpeaking!

Download
Updates
Please check back here for updates.