Drama: Between Poetry and Performance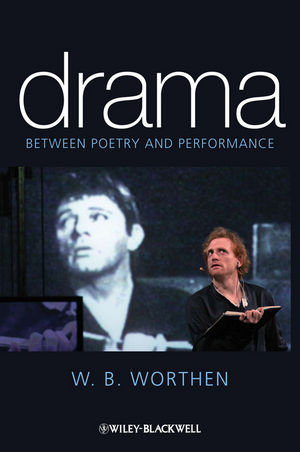 Drama: Between Poetry and Performance
ISBN: 978-1-405-15341-6 January 2010 Wiley-Blackwell 304 Pages
Description
An engaging book spanning the fields of drama, literary criticism, genre, and performance studies, Drama: Between Poetry and Performance teaches students how to read drama by exploring the threshold between text and performance.
Draws on examples from major playwrights including Shakespeare, Ibsen, Beckett, and Parks
Explores the critical terms and controversies that animate the performance and study of drama, such as the status of language, the function of character and plot, and uses of writing
Engages in a theoretical, disciplinary, and cultural repositioning of drama, by exploring and contesting its position at the threshold between text and performance
Acknowledgments.
Preface: Drama, Poetry, and Performance.
Introduction: Between Poetry and Performance.
i. Shakespeare 3.0.
ii. Images of Writing/Metaphors of Performance.
The score.
The blueprint.
Information/software.
Dramatic tools, performance technologies.
iii. Agencies of Drama: Burke, Poetry, and Performance.
Writing as agency: "Antony in Behalf of the Play".
1. From Poetry to Performance.
i. Dramatic Performance and its Discontents: The New Criticism.
Drama, poetry, and "interpretation".
"An arrangement of words".
Acts of speech.
Heresy, responsibility, and performance.
ii. Dramatic Writing and its Discontents: Performance Studies, Drama Studies.
Antigone's bones.
The "theater of acting".
Rethinking writing.
2. Performing Writing: Hamlet.
i. Hamlet's Book.
Playing the book.
The law of writ.
Speaking by the card.
ii. Corrupt Stuff; or, Doing Things with (Old) Words.
The crux of performance.
Enseamed beds.
iii. "OK, we can skip to the book": The Wooster Group Hamlet.
Theatrofilm by Electronovision.
(Re)playing Burton, performing Hamlet.
3. Embodying Writing: Ibsen and Parks.
i. Can We Act What We Say?: Rosmersholm.
Inscribing character.
Acting the role.
Confession, disclosure, detour.
Doing (unspeakable) things with words.
ii. Footnoting Performance: The America Play and Venus.
A wink to Mr. Lincolns pasteboard cutout.
Diggidy-diggidy-diggidy-dawg.
4. Writing Space: Beckett and Brecht.
i. Quad: Euclidean Dramaturgies.
ii. By Accepting This License.
iii. What Where: Brechtian Technologies.
Notes.
Works Cited.
Further Reading.  
Index.
An engaging book spanning the fields of drama, literary criticism, genre, and performance studies, which not only teaches students how to read drama, but also explores the key questions that have occupied the earliest playwrights through to today's most distinguished literary and cultural critics

Draws on examples from major playwrights including Shakespeare, Ibsen, Beckett, and Parks

Explores the critical terms and controversies that animate the performance and study of drama, such as the status of language, the function of character and plot, and uses of writing

Engages in a theoretical, disciplinary, and cultural repositioning of drama, by exploring and contesting its position at the threshold between text and performance