DramaTexts: Creative Practice for Senior Drama eBookPLUS (Online Purchase)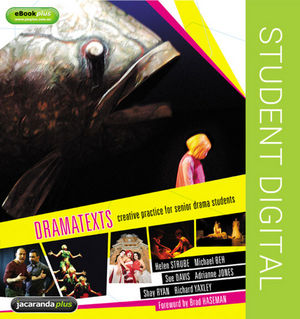 DramaTexts: Creative Practice for Senior Drama eBookPLUS (Online Purchase)
ISBN: 978-1-742-16315-4
Feb 2010, Jacaranda
Product not available for purchase
Description
Dramatexts eBookPLUS for students contains the entire textbook in HTML format plus additional electronic resources. These flexible and engaging resources can be accessed from Jacaranda PLUS www.jacplus.com.au

 

The eBookPLUS features:
word documents designed for easy customisation and editing
interactivities
HTML links to other useful support material on the internet
What is onlinepurchase?
Onlinepurchase is a Jacaranda digital only product.
Following payment you will receive a registration code via email.
Go to www.jacplus.com.au to register your code and access your digital resource.


Click here to view Dramatext: Creative Practice for Senior Drama Textbook & eBookPLUS.
Section A

1. Drama is...
2. Scriptwriting as Contemporary Creative Practice
3. The Autonomous Actor
 
Section B
4. Antigone's Child
5. A Rose By Any Other Name
6. Post-Brecht and Far Away: Political Theatre
7. Stepping Stones to Australian Indigenous Drama
8. Forgotten Angels: Applied Theatre
9. Cracked And Loose: Surrealism and Beyond
10. Post-Modern Theatricality
11. Cyberdrama: Storytelling and Process Drama for the Digital Age
With the addition of:
• Interactivities
• eLessons
• Tutorials
• Worksheets
• Transcripts of interviews
• Additional case studies