Drawing For Dummies, 2nd Edition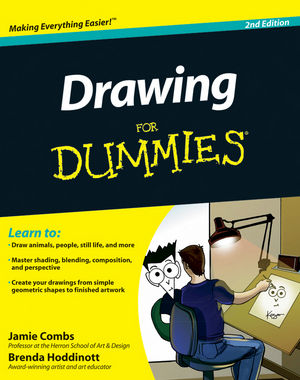 Drawing For Dummies, 2nd Edition
ISBN: 978-1-118-03200-8 January 2011 384 Pages
Description
The fast and easy way to learn to draw
Drawing can enrich your life in extraordinary and unexpected ways. Drawing your everyday experiences can change how you and others see the world, while drawing from your imagination can give rise to fantastic new worlds. And, despite what you may believe, it's something just about anyone can learn to do.
Drawing For Dummies offers you a fun, easy way to learn the drawing basics. Holding fast to the simple philosophy that only you can teach yourself to draw, it gives you the tools you need to explore the basics and move on to more advanced techniques. This revised edition of one of the most successful For Dummies guides includes

Additional step-by-step instructions for drawing people, animals, still life, and more
Coverage of effects, composition, and perspective
How-to art projects that show you how to create your drawings from simple geometric shapes to finished artwork
It's never too late to unleash the artist within. Let Drawing For Dummies, 2nd edition put you on the road to discovery and self-expression through drawing.
Table of contents
Introduction.
Part I: Discovering What It Takes to Draw.
Chapter 1: Gearing Up to Start (And Continue) Drawing.
Chapter 2: Gathering What You Need to Get Started.
Chapter 3: Working through the Developmental Stages of Drawing.
Chapter 4: Drawing On Your Computer.
Chapter 5: A New Kind of Seeing: Getting Familiar with the Artist's Perspective.
Part II: Developing the Basic Skills.
Chapter 6: Planning Your Drawings.
Chapter 7: Seeing and Drawing Lines and Shapes.
Chapter 8: Exploring the Third Dimension.
Chapter 9: Adding Life to Your Drawings with Shading.
Chapter 10: Identifying and Rendering Textures.
Chapter 11: Investigating Perspective Drawing.
Part III: Experimenting with Subject Matter.
Chapter 12: Making Meaningful Still-Life Drawings.
Chapter 13: Representing the Natural World in Your Drawings.
Chapter 14: Bringing Animals to Life on Paper.
Chapter 15: Drawing People.
Part IV: The Part of Tens.
Chapter 16: Ten Tips for Drawing Cartoons.
Chapter 17: Ten Ways to Grow as an Artist.
Chapter 18: Answering Ten Common Copyright Questions.
Index.