Drawing the Line: Art Therapy with the Difficult Client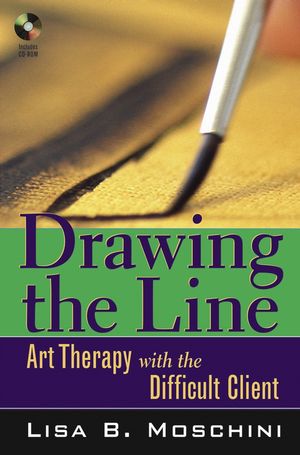 Drawing the Line: Art Therapy with the Difficult Client
ISBN: 978-0-471-69443-4 February 2005 368 Pages
Description
This resourceful guide presents art therapy techniques for difficult clients where the typical therapist-client interaction can often be distant, demanding, and frustrating. Offering practical and theoretical information from a wide variety of treatment populations and diagnostic categories; and incorporating individual, group, and family therapy case studies, the text is filled with examples and over 150 illustrations taken from the author's sixteen years of experience working with hundreds of clients. The author is a licensed Marriage and Family Therapist with a Master's degree in Clinical Art Therapy. The text comes with an accompanying CD-ROM which includes full-color pictures and additional material not found in the book.
Table of contents
Preface.
Acknowledgments.
Introduction: A Difficult Client Defined.
PART I: Defense Mechanisms and the Norms of Behavior.
1. In My Defense.
2. Adaptation and Integration.
PART II: Reading Between the Lines.
3. Interpreting the Art.
4. Directives.
PART III: The Practice of Art Therapy.
5. Individual Therapy: Three Cases Revealed.
6. Group Therapy Illustrated.
7. Two's Company, Three's a Crowd? Family Therapy Directives.
Appendix A: Structural Aspects: Quantitative Analysis.
Appendix B: Formal Aspects: Qualitative Analysis of the Person.
Appendix C: Formal Aspects: Qualitative Analysis of the House.
Appendix D: Formal Aspects: Qualitative Analysis of the Tree.
Appendix E: Eight-Card Redrawing Test Adapted Scoring Sheet.
Appendix F: Sample Directives.
Appendix G: Sample Group Processing Directives.
References.
Index.
About the CD-ROM.