Drawing the Line: How Mason and Dixon Surveyed the Most Famous Border in America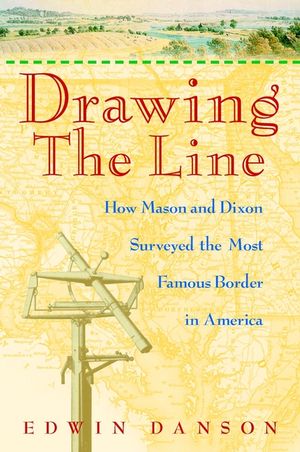 Drawing the Line: How Mason and Dixon Surveyed the Most Famous Border in America
ISBN: 978-0-471-38502-8
Dec 2000
240 pages
Product not available for purchase
Description
THE FIRST POPULAR HISTORY OF THE MAKING OF THE MASON-DIXON LINE

The Mason-Dixon line-surely the most famous surveyors' line ever drawn-represents one of the greatest and most difficult scientific achievements of its time. But behind this significant triumph is a thrilling story, one that has thus far eluded both historians and surveyors. In this engrossing narrative, professional surveyor Edwin Danson takes us on a fascinating journey with Charles Mason and Jeremiah Dixon, two gifted and exuberant English surveyors, through the fields and forests of eighteenth-century America. Vividly describing life in the backwoods and the hardships and dangers of frontier surveying, Drawing the Line discloses for the first time in 250 years many hitherto unknown surveying methods, revealing how Mason and Dixon succeeded where the best American surveyors of the period failed. In accessible, ordinary language, Danson masterfully throws the first clear light on the surveying of the Mason-Dixon line. Set in the social and historical context of pre-Revolutionary America, this book is a spellbinding account of one of the great and historic achievements of its time.

Advance Praise for Drawing the Line

"Drawing the Line combines a fast-moving story, a human drama, and a clear account of surveying in the era of George Washington. An intriguing interaction of politics and science."-CHARLES ROYSTER, Boyd Professor of History, Louisiana State University, and Winner of the Bancroft Prize in History
Prologue.

In the Reign of George the Third.

The Fortieth Degree.

The Great Chancery Suit.

La Figure de la Terre.

The Transit of Venus.

Mr. Bird's Contrivances.

"Persons Intirely Accomplished".

The Southernmost Point of the City.

Fifteen Statute Miles, Horizontal.

The Tail of Ursae Minoris.

Fine Sport for the Boys.

"From the Post Mark'd West".

The Pencil of Time.

"King of the Tuscarawa".

From Hence: to the Summit.

At a Council of the Royal Society.

Vibration of the Pendulum.

Not One Step Further.

A Degree of Latitude.

The Last Transit.

Legacy.

Appendix.

Bibliography.

Index.
"...thoroughly researched... a good story shines through..."(Sunday Times - Book of the Week, 18th March 2001)