Drawn to Golf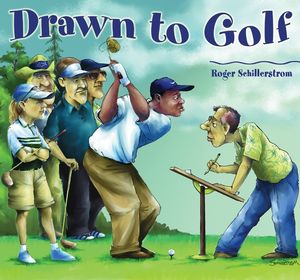 Drawn to Golf
ISBN: 978-1-932-20216-8
Apr 2004
141 pages
Description
Roger Schillerstrom's Drawn to Golf is a different "look" at the game we love. For almost 20 years, Roger Schillerstrom has been providing editorial cartoons to several of the most respected and well-read publications produced by Crain Communications. In 1995, Golfweek magazine (another Crain product) asked Schillerstrom to turn his creative eye toward the game of golf and create cartoons to complement its weekly "commentary" pages. The pairing was an immediate success and it continues to this day.

Drawn to Golf is a carefully selected collection of the most clever and insightful cartoons that Roger has produced for Golfweek over the past eight years. Few, if any, of golf's most controversial, comical, or sad moments have been overlooked. From the stunning emergence of possibly the greatest player ever – Tiger Woods – to the tragic loss of fan-favorite Payne Stewart. From Jean Van de Velde's collapse at Carnoustie, to David Duval's breakthrough at the British Open. And from hot balls heading down the fairway, to hot tempers at the Solheim Cup.
Introduction.
Georgia on My Mind.
No Respect, I Tell Ya.
Tea for Three (Other Majors).
Tale of a Tiger.
Hands Across the Water.
There's Gold in Them Thar Hills!
Lady Players Golfing with Annika.
Rules, Rules, Rules.
Ride or Wrong?
'Nuff Said.