Dreamweaver® CS4 Bible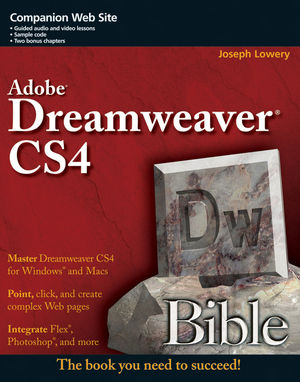 Description
Packed with more than one thousand pages of hands-on instruction and step-by-step tutorials, the bestseller returns with everything you need to know to harness the power of Dreamweaver CS4. This comprehensive resource guides you through the ins and outs of Dreamweaver CS4 so you can quickly get started building dynamic, data-driven sites. The book demonstrates building interactive forms; creating client-side image maps; connecting to a live database; working with layers, style sheets, and dynamic HTML; inserting, deleting, and updating data from Web pages; designing with templates; and integrating with Photoshop, Bridge, Flex, Fireworks, and Cold Fusion, as well as CSS and Ajax.
I. Laying the Groundwork in Dreamweaver CS4.
1. What's New in Dreamweaver CS4.
2. Introducing Dreamweaver CS4.
3. Touring Dreamweaver.
4. Setting Your Preferences.
5. Setting Up Sites and Servers.
II. Designing and Crafting Basic Pages.
6. Accessing the Code Directly.
7. Building Style Sheet Web Pages.
8. Working with Text.
9. Inserting Images.
10. Establishing Web Links.
III. Adding Advanced Design Features.
11. Working with Divs and AP Elements.
12. Using Behaviors.
13. Setting Up Tables.
14. Interactive Forms.
15. Creating Lists.
16. Using Frames and Framesets.
17. Powering Ajax Pages with Spry.
18. Working with JavaScript Frameworks (New).
IV. Incorporating Dynamic Data.
19. Establishing Connections and Recordsets.
20. Making Data Dynamic.
21. Managing Data.
22. Working with Live Data.
23. Crafting Multiple-Page Applications.
V. Including Multimedia Elements.
24. Adobe Photoshop, Fireworks, and Bridge Integration.
25. Inserting Flash Elements.
26. Adding Video to Your Web Page.
27. Using Audio on Your Web Page.
VI. Enhancing Productivity and Web Site Management.
28. Using Dreamweaver Templates.
29. Using Repeating Elements.
30. Maximizing Browser Targeting.
31. Building Web Sites with a Team.
32. Integrating with XML and XSLT.
VII. Extending Dreamweaver.
33. Customizing Dreamweaver.
34. Handling Server Behaviors.
35. Creating AIR Applications (New).
VIII. Appendix.
Appendix A: What's on the Web Site.
Web Chapter 1

Download
Web Chapter 2

Download
All sample code from book

Download
Dreamweaver Bible Extensions

Download
Dreamweaver Bible Simulations

Download
Dreamweaver Bible Techniques

Download
ReadMe for relative_realty.sql
The text refers to this ReadMe file, which was not previously posted.
Download