Dreamweaver 8 Bible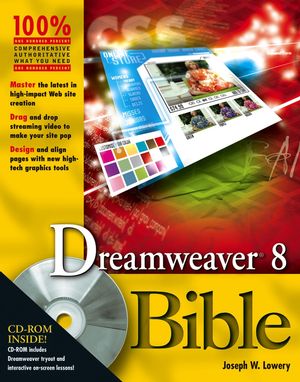 Dreamweaver 8 Bible
ISBN: 978-0-471-76312-3
Feb 2006
1152 pages
Product not available for purchase
Description
Build a dynamic, high-impact Web site with the remarkable power of Dreamweaver 8 and the latest version of this top-selling guide from well-known Dreamweaver guru Joseph Lowery. Packed with hands-on instruction and step-by-step tutorials, this comprehensive manual starts you on the basics of Web design and moves to advanced techniques in no time. From quick design prototyping to ongoing Web site management—plus a special focus on Dreamweaver 8's new features for CSS, Flash video, code development, and more - this professional guide is a must for Web masters and developers.

Inside, you'll find complete coverage of Dreamweaver 8
Create dynamic Web pages using Cascading Style Sheets
Punch up your page with progressive or streaming video
Build interactive forms and client-side image maps
Insert, delete, and update data in your Web pages
Improve your HTML coding with the new Coding toolbar
Integrate with Photoshop(r), Flash(r), Fireworks(r), ColdFusion(r), and other apps
Use templates and the Library to unify and update your pages
Extend Dreamweaver's power by creating your own custom tags and behaviors
Bonus CD-ROM
The value-packed CD-ROM includes Dreamweaver 8 tryout edition and exclusive interactive on-screen tutorials!
Note: CD-ROM/DVD and other supplementary materials are not included as part of eBook file.
Acknowledgments.
Introduction.
Part I: Laying the Groundwork in Dreamweaver 8.
Chapter 1: What's New in Dreamweaver 8.
Chapter 2: Introducing Dreamweaver 8.
Chapter 3: Touring Dreamweaver.
Chapter 4: Setting Your Preferences.
Chapter 5: Setting Up Sites and Servers.
Part II: Designing and Crafting Core Pages.
Chapter 6: Accessing the Code Directly.
Chapter 7: Building Style Sheet Web Pages.
Chapter 8: Working with Text.
Chapter 9: Inserting Images.
Chapter 10: Establishing Web Links.
Part III: Adding Advanced Design Features.
Chapter 11: Working with Divs and Layers.
Chapter 12: Using Behaviors.
Chapter 13: Setting Up Tables.
Chapter 14: Interactive Forms.
Chapter 15: Creating Lists.
Chapter 16: Using Frames and Framesets.
Chapter 17: Working with Timelines.
Part IV: Incorporating Dynamic Data.
Chapter 18: Establishing Connections and Recordsets.
Chapter 19: Making Data Dynamic.
Chapter 20: Managing Data.
Chapter 21: Working with Live Data.
Chapter 22: Crafting Multiple-Page Applications.
Part V: Including Multimedia Elements.
Chapter 23: Fireworks Integration.
Chapter 24: Inserting Flash and Shockwave Elements.
Chapter 25: Adding Video to Your Web Page.
Chapter 26: Using Audio on Your Web Page.
Part VI: Enhancing Productivity and Web Site Management.
Chapter 27: Using Dreamweaver Templates.
Chapter 28: Using the Repeating Elements Library.
Chapter 29: Maximizing Browser Targeting.
Chapter 30: Building Accessible Web Sites with a Team.
Chapter 31: Integrating with XML and XSLT.
Part VII: Extending Dreamweaver.
Chapter 32: Customizing Dreamweaver.
Chapter 33: Handling Server Behaviors.
Appendix A: What's on the CD-ROM?
Index.
End-User License Agreement.
Fully revised to cover all the new features of this hot web design tool for active, database-driven Web page development!
New focus on tutorials and solutions makes the Bible more approachable than ever before
New guided on screen lessons included on CD ROM
Written by Macromedia insider, Web design expert, best-selling author, and Dreamweaver Advisor Council team member Joe Lowery.
Bonus Chapter 01: Creating and Using Objects
Download Bonus Chapter in PDF format. Windows users will need the free Adobe Reader available from adobe.com
Download
Bonus Chapter 02: Creating a Behavior
Download Bonus Chapter in PDF format. Windows users will need the free Adobe Reader available from adobe.com
Download
Bonus Appendix A: Toolbars and Menus
Download Bonus Chapter in PDF format. Windows users will need the free Adobe Reader available from adobe.com
Download
Chapter
Page
Details
Date
Print Run
CD-ROM
Simulations Correction
The filenames of some of the Simulations were truncated. Therefore, the links will not open from the index.htm. To view the tutorials from the CD-ROM open the Chapter directory and double-click on the .swf for the Simulation you would like to view.
4/6/06

---