Dreamweaver CC For Dummies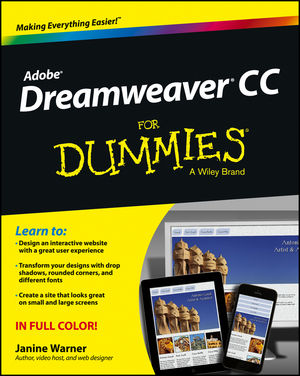 Dreamweaver CC For Dummies
ISBN: 978-1-118-65894-9 May 2013 416 Pages
Description
Turn your wonderful website dreams into robust realities with the help of Dreamweaver CC For Dummies!
Creating dynamic websites is easy with Dreamweaver CC and this friendly, full-color guide. Updated for the latest version of Adobe's world-renowned web development tool, Dreamweaver CC For Dummies covers all aspects of creating websites, from understanding web design basics to using style sheets, integrating multimedia, implementing responsive design, testing and publishing your sites, and more. With the professional guidance of Web design expert Janine Warner, you'll soon be on your way to building the website you've always wanted.
Helps beginning and intermediate website developers get the most out of the new tools and features in Dreamweaver CC
Provides a solid foundation in web design principles before moving on to more advanced topics like working with HTML5 and CSS, adding interactivity with jQuery, optimizing your site for different browsers, and getting creative with images, audio, and video
Explains how to test and take your website live, manage and monitor your site's performance, promote your site via social media, and push it to the top of the search engine rankings like a pro
Whether this is your first foray into web development or you're a Dreamweaver devotee, For Dummies has the information you need to create interactive websites that look fantastic on the flat screen, terrific on a tablet, and simply stunning on your smartphone.
Table of contents
Introduction 1
Part I: Getting started with Dreamweaver CC 7
Chapter 1: The Many Ways to Design a Web Page 9
Chapter 2: Opening and Creating Sites 35
Chapter 3: Creating Web Graphics 63
Chapter 4: Managing, Testing, and Publishing a Website 89
Part II: Creating Page Designs with Style 125
Chapter 5: Introducing Cascading Style Sheets 127
Chapter 6: Creating and Editing CSS Styles 161
Chapter 7: Designing with CSS3 207
Chapter 8: Creating Responsive Designs with Fluid Grid Layouts 219
Chapter 9: Saving Time with Templates and More 241
Chapter 10: Coming to the HTML Table 267
Part III: Making Your Site Cool with Advanced Features 283
Chapter 11: Adding Interactivity with Behaviors 285
Chapter 12: Using jQuery UI and Mobile Widgets 307
Chapter 13: Showing Off with Multimedia 321
Part IV: The Part of Tens 353
Chapter 14: Ten Resources You May Need 355
Chapter 15: Ten Ways to Promote Your Site 363
Index 373
Downloads
Updates
Please check back here for updates.