Dreamweaver CS3 For Dummies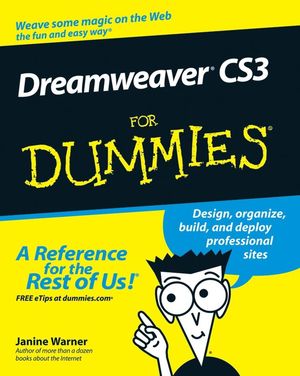 Dreamweaver CS3 For Dummies
ISBN: 978-1-118-05125-2
Feb 2011
456 pages
Description
Packed with the latest Dreamweaver tips and techniques
Get up to speed fast and start creating dynamite Web sites!
Do you want to create a sophisticated Web site that's easy to develop and maintain? Whether you're a beginner or an experienced Web developer, this friendly guide shows you how to utilize Dreamweaver's newest enhancements to build and manage state-of-the-art, professional Web sites quickly and easily.
Set up your site and create new pages
Work with text, graphics, and links
Define and apply styles using CSS
Add audio, video, and Flash® files to your site
Use Dreamweaver's database features
Introduction.
Part I: Creating Great Web Sites.
Chapter 1: The Many Ways to Design a Web Page.
Chapter 2: Opening and Creating Sites in Dreamweaver.
Chapter 3: Adding Graphics.
Chapter 4: Managing, Testing, and Publishing a Site.
Part II: Appreciating Web Design Options.
Chapter 5: Cascading Style Sheets.
Chapter 6: Creating CSS Layouts.
Chapter 7: Coming to the HTML Table.
Chapter 8: Framing Your Pages.
Chapter 9: Coordinating Your Design Work.
Part III: Making It Cool with Multimedia and JavaScript.
Chapter 10: Adding Interactivity with Behaviors.
Chapter 11: Showing Off with Multimedia.
Chapter 12: Forms Follow Function.
Part IV: Working with Dynamic Content.
Chapter 13: Building a Dynamic Web Site: Getting Started.
Chapter 14: Bringing Data into the Mix.
Chapter 15: Using Forms to Manage Your Dynamic Web Site.
Part V: The Part of Tens.
Chapter 16: Ten Resources You May Need.
Chapter 17: Ten Timesaving Tips.
Chapter 18: Ten Great Web Sites Designed in Dreamweaver.
Index.