Dreamweaver CS4 Digital Classroom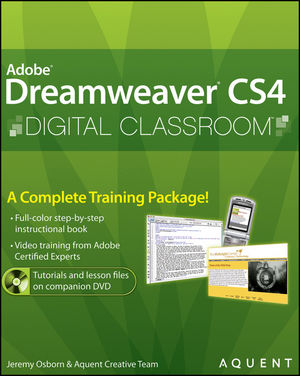 Dreamweaver CS4 Digital Classroom
ISBN: 978-0-470-41092-9
Oct 2008
448 pages
Product not available for purchase
Description
Dreamweaver CS4 Digital Classroom is like having a personal instructor guiding readers through each lesson, while they work at their own pace. This book includes 13 self-paced lessons that let readers discover essential skills and explore new features and capabilities of Adobe Dreamweaver CS4. Each lesson is presented in full color with step-by-step instructions. Learning is reinforced with video tutorials and lesson files on a companion DVD that were developed by the same team of Adobe Certified Instructors and Dreamweaver experts who have created many of the official training titles for Adobe Systems. Each video tutorial is approximately five minutes long and demonstrates and explains the concepts and features covered in the lesson. This training package demonstrates how to design, develop, and maintain a fully functioning Web site. Coverage includes applying style sheets, using dynamic HTML, adding style with images and multimedia, publishing and maintaining a web site, using hyperlinks to navigate throughout a website or link to other sites on the Internet, and using databases to create dynamic websites. Jam-packed with information, this book takes users from the basics through intermediate level topics and helps readers find the information they need in a clear, approachable manner.

Note: CD-ROM/DVD and other supplementary materials are not included as part of eBook file.
Starting Up.
Lesson 1: Dreamweaver CS4 Jumpstart.
Lesson 2: Setting Up a New Site.
Lesson 3: Adding Text and Images.
Lesson 4: Styling Your Pages with CSS.
Lesson 5: Creating Page Layouts with CSS.
Lesson 6: Working with Tables.
Lesson 7: Fine-Tuning Your Workflow.
Lesson 8: Adding Flash, Video, and Sound Content.
Lesson 9: Maximizing Site Design.
Lesson 10: Under the Hood: Editing in the Code View.
Lesson 11: Building Web Forms.
Lesson 12: Working with the Spry Framework.
Lesson 13: Managing Your Web Site: Reports, Optimization, and Maintenance.
Lesson 14: Using Legacy Tools: Frames and Tables.