Dreamweaver MX Complete Course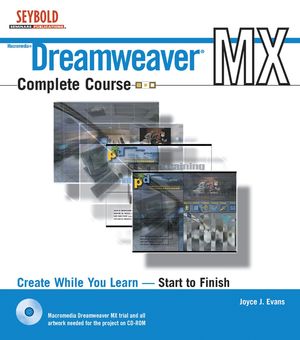 Dreamweaver MX Complete Course
ISBN: 978-0-764-53686-1
Oct 2002
352 pages
Product not available for purchase
Description
* This groundbreaking title provides creative design professionals and students with a complete, authoritative curriculum-based course to quickly and easily get them up-to-speed with the latest release of Macromedia Dreamweaver!
* Teaches the full range of Dreamweaver tools and techniques through the recreation of a working Web site - with all raw artwork included on the CD-ROM!
* Features stunning four color artwork and glossy white paper throughout for maximum informational value and "wow" appeal!
* Appropriate for both Mac and Windows!
* Divided into timed Sessions based on the central project/image. These are chapter-level
* Divisions that contain the heart of the book: the progressive tutorials!
* The project starts simply, establishing major design areas with the basic Dreamweaver techniques, and applying the Wow! Factor to each area as the project advances..
* The final result is a professional-level competency with Dreamweaver and a beautiful, fully functional Web site.
* CD-ROM contains all of the files and materials needed for the project.
* Seybold Seminars is the number-one name in the design and publishing technology field.
Joyce J. Evans is an acclaimed author and dynamic communications professional, with over 10 years of experience in educational training, speaking, tutorial development, Web design and usability, she faces every challenge with a genuine concern for the user. She founded, designed and maintains the Idea Design Web site, (http://www.je-ideadesign.com) a Web design studio. In conjunction with the ID Bookstore and other various clients she keeps herself very busy in the online development world.
Acknowledgments.

Author Bio.

Confidence Builder.

Setting Up Your First Web Page.

Inserting Images.

Making an Image Map and Adding Text.

Part I: Course Setup.

Dreamweaver Basics.

Part II: Getting Started.

Session 1: Laying the Foundation.

Session 2: Building the Sites Framework.

Session 3: Working with Tables.

Session 4: Working with Images.

Session 5: Adding Text.

Session 6 Adding Navigational Links.

Part III: Automating the Design Process.

Session 7: Using Cascading Style Sheets (CSS).

Session 8: Using Templates and Libraries.

Part IV: Adding Interactivity.

Session 9: Adding Dimension with Layers.

Session 10: Dynamic HTML (DHTML).

Session 11: Making a Pop-Up Menu.

Session 12: Adding Forms and Behaviors.

Session 13: Building a Frame-Based Site.


Part V: Site Management.

Session 14: Performing Site Checks.

Session 15: Round-Trip Between Dreamweaver and Fireworks.

Session 16: Getting Your Web Site Online.

Part VI: Working with a Data Source.

Session 17: Setting Up a Database Connection.

Session 18: Building a Web Application.

Appendix A: Resources.

Appendix B: What's on the CD-ROM.

Index.

End-User License Agreement.
"…the best book reviewed here in terms of providing a complete training solution from total beginner to intermediate user level…" (Practical Web Projects, May 2003)
Joyce J. Evans founded and runs Idea Design, a Web design studio. She has more than a decade of experience as a Web designer and trainer and is the author of Fireworks 4 f/x and Design and Integrating Flash, Fireworks, and Freehand f/x and Design.
Seybold Seminars and Seybold Publications are leaders in helping graphic design and Web professionals understand and work with the latest digital technologies. For information, go to www.seyboldseminars.com.