Dreamweaver MX / Fireworks MX Savvy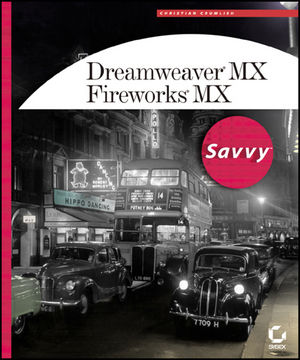 Dreamweaver MX / Fireworks MX Savvy
ISBN: 978-0-782-14111-5
Aug 2002
665 pages
Product not available for purchase
Description
"This [Dreamweaver MX/Fireworks MX Savvy] is the second book in the new Savvy series from Sybex that I have reviewed, and I must say that the Savvy series has impressed me mightily so far."
--Computer Arts Magazine UK, October 2002, www.computerarts.co.uk

Savvy--n. Practical know-how.

Dreamweaver MX / Fireworks MX Savvy is a thorough, in-depth resource for every user of Macromedia's powerful web publishing tools. Heading up a team of experienced Web professionals, best-selling author Christian Crumlish teaches you everything from best-practices methodology to the nitty gritty of such common tasks as: migrating sites to Dreamweaver, optimizing images for Web use, creating dynamic content, building web applications, administering your site, and more.

Work your way through from Chapter 1 to Chapter 32, or jump right to the information you need most to improve your productivity and get professional results. Whether you're a Web designer or developer, a graphic designer or a project manager, this book will make you a Dreamweaver and Fireworks expert.

Coverage includes:
Planning Your Web Project: using the Site Definition Wizard; using templates, assets, and libraries; setting up a remote server; and customizing and extending Dreamweaver.

Creating and Optimizing Graphics: roundtrip graphics editing, working with bitmaps and vectors, creating navigation objects, batch-processing images, and optimizing images for faster page loading.

Designing Web Pages: using tables, layers, and style sheets; using image placeholders; taking advantage of Dreamweaver's new CSS 2.0 support; building a navigation interface; and adding interactive behaviors.

Building Database-Backed Web Apps: assembling forms from front to back; choosing from the ASP, ASP.NET, JSP, ColdFusion, and PHP/MySQL server models; working with dynamic data; and creating Web applications.

Handing Over a Finished Project: validating and testing your site, going live, and setting up backend administration functionality to manage a site over the long term.

Hands On tutorials let you apply your new knowledge to complex real-world projects, mastering the skills your own Web sites demand. A full-color section illustrates color-specific techniques.

See the author's website at www.dreamweaversavvy.com.
Introduction.
PART I: PLANNING YOUR PROJECT AND SETTING UP DREAMWEAVER .
Chapter 1: Planning and Preparing for a Web Project .
Chapter 2: Web Pages Deconstructed .
Chapter 3: Setting Up Your Workspace and Your Site .
Chapter 4: Saving Labor with Templates and Libraries .
PART II: USING FIREWORKS .
Chapter 5: Getting into Fireworks .
Chapter 6: Adding Strokes, Fills, and Live Effects .
Chapter 7: Working With Vectors .
Chapter 8: Working with Bitmaps .
Chapter 9: Designing Navigation Objects .
Chapter 10: Slicing, Optimizing, and Exporting Images .
PART III: BUILDING A WEB PAGE .
Chapter 11: Page Layout with Tables and Layers .
Chapter 12: Inserting and Formatting Text Content .
Chapter 13: Working with Graphics .
Chapter 14: Interactivity with Framesets and Frames .
Chapter 15: Cascading Style Sheets .
Chapter 16: Making and Maintaining Hyperlinks .
PART IV: INSERTING DYNAMIC CONTENT .
Chapter 17: Adding Multimedia .
Chapter 18: Rollovers, Navigation Bars, and Jump Menus.
Chapter 19: Behavioral Science.
Chapter 20: Going Interactive with Forms.
Chapter 21: Building an E-Commerce Site.
PART V: DEVELOPING WEB APPLICATIONS.
Chapter 22: Building Web Applications.
Chapter 23: Handcrafting Your Code.
Chapter 24: Database Connectivity.
Chapter 25: Working with ColdFusion.
Chapter 26: Working with XML and XHTML.
Chapter 27: Working with Emerging Technologies—Web Services and .NET.
PART VI: SITE ADMINISTRATION FROM START TO FINISH.
Chapter 28: Setting Up Administration Behind a Site.
Chapter 29: Checking Browser Compatibility.
Chapter 30: Going Live or Delivering the Site.
Chapter 31: Administering the Site.
Chapter 32: Customizing and Extending Dreamweaver.
PART VII: APPENDICES.
Appendix A: Online Resources.
Appendix B: Dreamweaver MX Keyboard Shortcuts.
Index.
Chapter
Page
Details
Date
Print Run
Combined Errata


Page 95

Under Enhance an Image with a Unique Stroke, Step # 1, the referenced "photo.png" was not included on the CD. .
This file is available on the authors Web site at:

http://dreamweaversavvy.com/tutorials/06/photo.png

Page Chapter 6

Missing images can be downloaded from http://fireweaver.com/savvy/




---