Driven: How Human Nature Shapes Our Choices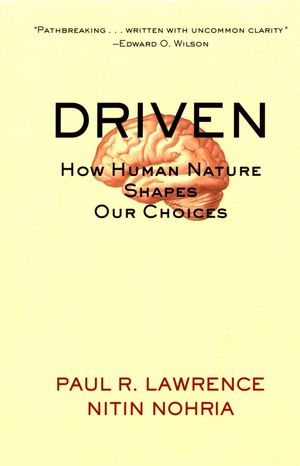 Driven: How Human Nature Shapes Our Choices
ISBN: 978-0-787-96385-9
Sep 2002
352 pages
Description
A touchstone for understanding how we behave on the job

"This is a stimulating and provocative book in bringing together important ideas from different fields, and, thereby, giving us a whole new slant on 'human nature.'" --Edgar H. Schein, Sloan Fellows Professor of Management Emeritus and Senior Lecturer, MIT

In this astonishing, provocative, and solidly researched book, two Harvard Business School professors synthesize 200 years of thought along with the latest research drawn from the biological and social sciences to propose a new theory, a unified synthesis of human nature. Paul Lawrence and Nitin Nohria have studied the way people behave in that most fascinating arena of human behavior-the workplace-and from their work they produce a book that examines the four separate and distinct emotive drives that guide human behavior and influence the choices people make: the drives to acquire, bond, learn, and defend. They ultimately show that, just as advances in information technology have spurred the New Economy in the last quarter of the twentieth century, current advances in biology will be the key to understanding humans and organizations in the new millennium.
Editor's Note, Warren Bennis.

Foreword, Edward O. Wilson.

The Authors.

Preface.

PART ONE: BRIDGING GAPS;
SETTING THE STAGE FOR UNDERSTANDING HUMAN NATURE.

1. Toward a Unified Understanding of Human Nature.

2. How the Modern Human Mind Evolved.

3. Innate Drives and Skills.

PART TWO: THE FOUR DRIVES BEHIND HUMAN CHOICES.

4. The Drive to Acquire (D1).

5. The Drive to Bond (D2).

6. The Drive to Learn (D3).

7. The Drive to Defend (D4).

PART THREE: THE DRIVES IN ACTION;
HOW HUMAN NATURE WORKS IN CONTEXT.

8. Culture, Skills, Emotions: Other Pieces of the Puzzle.

9. Origins of the Social Contract.

10. Why So Much Diversity?

PART FOUR: HUMAN NATURE AND SOCIETY.

11. Human Nature in Organizational Life.

12. The Road Forward.

Afterword: Future Research Proposals.

Notes.

Bibliography.

Index.
"...an interesting book which explores and integrates findings from several disciplines and which contributes further to the field of evolutionary psychology in a readable manner..." (The Occupational Psychologist, April 2002)