Driven to Lead: Good, Bad, and Misguided Leadership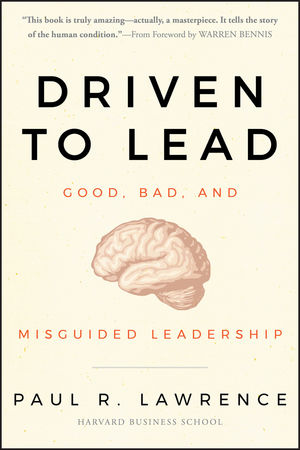 Driven to Lead: Good, Bad, and Misguided Leadership
ISBN: 978-0-470-63853-8 July 2010 Jossey-Bass 336 Pages
Description
Praise for Driven to Lead
"A powerful scientific framework, grounded in evolutionary biology, that helps us think about leadership successes and failures throughout history and how we might address humanity's need for better leadership going forward."
—Nitin Nohria, Dean, Harvard Business School
"Brilliant insights—straightforward, easy to comprehend, and extremely useful to anyone in business. I predict the four-drives model will replace Maslow's hierarchy of needs as the accepted way of describing human behavior."
—David N. Burt, chairman emeritus, Supply Chain Management Institute, University of San Diego
"Paul Lawrence is back! Driven to Lead is the most comprehensive general theory of leadership ever created. By digging deeply into Darwin, Lawrence offers a practical guide for authentic leaders to excel in today's challenging world."
—Bill George, professor of management practice, Harvard Business School, and former chair and CEO, Medtronic
"If Darwin had written a book about leadership in the twenty-first century, this would be it."
—Ranjay Gulati, Jaime and Josefina Chua Tiampo Professor of Business Administration, Harvard Business School
"It's the E = mc2 of human behavior."
—Malcolm DeLeo, Vice President of Innovation, Daymon Worldwide
"This book presents a rigorous and novel theory on how evolution and the human brain can produce effective and ineffective leadership. The writing is clear. It is accessible to practitioners as well as to researchers."
—Chris Argyris, professor emeritus, Harvard Business School
Table of contents
Foreword.
Acknowledgments.
The Author.
Introduction.
1 How Much Can We Hope For?
PART ONE: THE LEADERSHIP BRAIN.
2 A Brain Designed for Leadership?
3 Darwin Rediscovered: Did the Brain Evolve Leadership Capabilities?
PART TWO: HISTORIC LEADERSHIP PATTERNS.
4 All About Leaders: Good, Bad, and Misguided.
5 Leadership and the Historic Evolution of Political Institutions.
6 Leadership of Economic Institutions: The Rise of Corporations.
7 Leadership in Institutions of Human Meaning: Religion, Art, and Science.
PART THREE: LEADERSHIP IN CONTEMPORARY AFFAIRS.
8 Keeping on Track: Leadership in Contemporary Corporations.
9 A Worldwide Swindle: By Banking Leaders-w/o-Conscience?
10 Keeping a Global Economy and a Global Community on Track.
11 Keeping on Track by Practicing Good/Moral Leadership.
12 Renewing the Story of Human Progress with Darwin's Help.
Appendix: Darwin Misunderstood.
Notes.
Index.
Reviews
"...former Medtronic CEO and smart leadership thinker Bill George loved it, and I have to think someone who's been studying the topic since at least the 1960s would have something smart to say." (Washington Post, October 2010)