Driving Social Change: How to Solve the World's Toughest Problems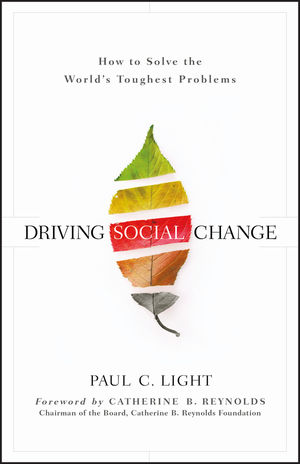 Driving Social Change: How to Solve the World's Toughest Problems
ISBN: 978-0-470-92241-5
Dec 2010
224 pages
Description
Strategies for long-term social impact
This important new book illustrates how to create the social breakthroughs needed to solve urgent global threats such as poverty, disease, and hunger. It then turns to three alternative, but complementary, paths to social breakthrough: social protecting, social exploring, and social advocacy, providing a detailed map of the journey from initial commitment to a world of justice and opportunity
Examines the current condition of the social impact infrastructure
Offers strategies for how to remedy the steady weakening of our social-impact infrastructure
Provides tactics to build strong social organizations and networks
Illustrates dynamic methods to respond to constant economic and social change
Author Paul Light believes we should be less concerned about the tools of agitation (social entrepreneurship, social protecting, social exploring, and social advocacy) and more concerned about the disruption and replacement of the status quo. Timely in its urgency, this book describes the revolutionary social impact cycle, which provides a new approach for framing the debate about urgent threats.
Foreword (
Catherine B. Reynolds
).
Acknowledgments.
Introduction.
Chapter 1: Still Searching for Social Entrepreneurship.
Chapter 2: Agitating the Prevailing Wisdom.
Chapter 3: The Breakthrough Cycle.
Chapter 4: Prepare to Expect Wonders.
Bibliography.
Index.
"Driving Social Change is the latest contribution to a rick ongoing dialogue about how to usher in social breakthroughs. Driving Social Change will appeal to many who are pioneering new ways to solve old problems, whether through young or established organizations, advocacy efforts, or research." (Standford Social Innovation Review, Spring 2012)