Driving Spaces: A Cultural-Historical Geography of England's M1 Motorway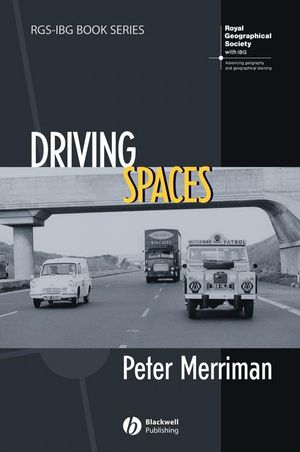 Driving Spaces: A Cultural-Historical Geography of England's M1 Motorway
ISBN: 978-1-405-13072-1 November 2007 Wiley-Blackwell 320 Pages
Description
Peter Merriman traces the social and cultural histories and geographies of driving spaces through an examination of the design, construction and use of England's M1 motorway in the 1950s and 1960s.



A first-of-its-kind academic study examining the production and consumption of the landscapes and spaces of a British motorway

An interdisciplinary approach, engaging with theoretical and empirical work from sociology, history, cultural studies, anthropology and geography

Contains 38 high quality illustrations

Based on extensive, original archive work
List of Figures.
Series Editors' Preface.
Acknowledgements.
1 Introduction: Driving Spaces.
Mobilities.
Driving, Space, Social Relations.
Driving, Landscape, Visuality.
Geographies of the Modern Road.
Contents of the Book.
2 Envisioning British Motorways.
Motoring and the Motor-Car Way, 1896-1930.
The German Autobahnen: The Politics and Aesthetics of a Nation's Roads.
Motorways for Britain? National Plans, National Defence.
Motorways, War and Reconstruction.
Motorways and the British Landscape.
3 Designing and Landscaping the M1.
Legislating and Campaigning: Towards a National Motorway Network.
Locating the M1: Regional Planning, Local Protests and the Authority of the Engineer.
Landscape Architecture and the Post-war, Modern Road.
'A New Look at the English Landscape': Landscape Architecture, Movement and the Aesthetics of a Modern Motorway.
Towards a Road Style: Service Areas in the Landscape.
'Cutting Holes in the Landscape': Britain's Motorway Signs.
4 Constructing the M1.
'Operation Motorway': Constructing the M1 Motorway.
Song of a Road: Folk Song, Working-Class Culture and the Labour of a Motorway.
5 Driving, Consuming and Governing the M1.
Motorway Driving, Embodiment, Competence.
'Motorway Madness': Driving, Governing, Expertise.
Motorway Modern: Consuming the M1.
Motorway Service Areas and the Motorist-Consumer.
Assessing the M1's Performance: Cost-Benefi t Analysis, Scientifi c Experiments, Accidents.
6 Motorways and Driving since the 1960s.
The 'M1 Corridor'.
Motorways and 'the Environment'.
Dystopian and Marginal Landscapes?
Placeless Environments?
Placing the M1 in the Late Twentieth and Twenty-First Centuries.
Appendix: Archival Sources.
Notes.
References.
Index.
"While I wish that he had synthesized his research in a strong conclusion, this criticism should not diminish the merits of the book. The empirical results and the study's framework deserve a firm place in the history of technology." (Technology & Culture, 1 January 2011)
"Merriman's systematic, detailed and precisely documented description of the cultural context of the M1 will itself stand as a valuable documentary resource for researchers and students alike" (Area, December 2008)
"Thoroughly researched and full of rich … Driving Spaces presents the historical trajectory of the M1 Motorway through a series of cultural and political stages." (Journal of British Studies, October 2008)
"Merriman provides a fascinating perspective on the social and cultural aspects of driving and highways … in this multidisciplinary study. Includes … numerous references … .Recommended." (Choice)


Based on extensive and original archive work this book is a first-of-its-kind academic study examining the production and consumption of the landscapes and spaces of a British motorway

An interdisciplinary approach, engaging with theoretical and empirical work from sociology, history, cultural studies, anthropology and geography

Contains 38 high quality illustrations, based on extensive, original archive work