Driving Your Company's Value: Strategic Benchmarking for Value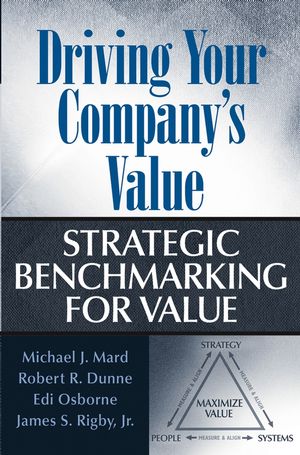 Driving Your Company's Value: Strategic Benchmarking for Value
ISBN: 978-0-471-64855-0 December 2004 193 Pages
Description
Driving Your Company's Value: Strategic Benchmarking for Value is a step-by-step book presenting a valuation-oriented methodology that helps companies maximize shareholder value. It offers clear, concise, and concrete methods for management to create and preserve value, complete with case study applications. In an easy-to-read format, it brings together the aspects of the Financial Accounting Standards Boards' new performance measurements, the balanced scorecard, and the new guidelines on fraud detection and Extensible Business Reporting Language (XBRL).
* Identifies the critical decisions that most effectuate growth and value.
* Covers the easy and reliable ways to monitor value of an entity.
* Demonstrates how management can apportion and allocate resources to achieve the highest value.
Preface.
Acknowledgments.
Overview.
Understanding Value.
Free Cash Flow.
The Five Dimensions of Value.
A Holistic Approach.
SBfV or EVA.
Return on Equity.
Economic Value Added.
The SBfV Process.
Step 1: Current State.
Qualitative Analysis of the Company's Current State.
Analyzing the Industry.
Analyzing the Company.
Quantitative Analysis of the Company's Current State.
Step 2: Desired Future State.
Future State.
Core Strategy.
Critical Success Factors.
Key Performance Indicators.
Benchmarking.
Step 3: Strategic Benchmarking Keys.
How Strategy Alignment Builds Value.
Grand Strategy, Strategy, or Tactics?
Translating Grand Strategy into Strategy Execution.
Grand Strategy Alignment Maps.
Alignment Thesis and Value Propositions.
Achieving Strategic Alignment.
A Strategy Alignment Model That Works—SBfV.
Step 4: Alignment Execution.
Alignment Execution.
Putting it Together.
Step 5: Benchmark and Monitor Return on Strategic Effectiveness.
Benchmark and Monitor Return on Strategy Execution.
Closing.
Appendix: Websites of Interest.
Index.