Drug Induced Movement Disorders, 2nd Edition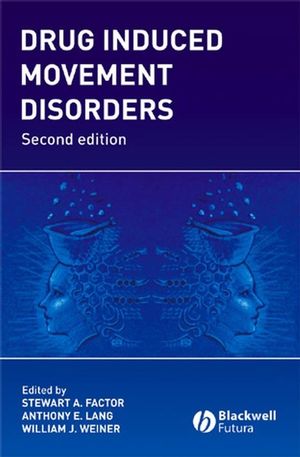 Drug Induced Movement Disorders, 2nd Edition
ISBN: 978-1-405-12619-9 February 2005 Wiley-Blackwell 482 Pages
Description
The second revised edition of this text will update and present current state of the art clinical approaches to this subject. This book will continue to be the source text of information on drug-induced movement disorders authored and edited by the pioneers in the field. It will be an invaluable addition to the library of any neurologist.
Table of contents
Section 1: General Considerations
.
Chapter 1: Movement Disorders: Approach, Definitions and differential Diagnosis.
Martin Cloutier, Anthony E. Lang.
Chapter 2: Rating Scales for Movement Disorders.
Wonodi I, Hong EH, Avila MT, Gunvant Thaker.
Chapter 3: Spontaneous movement disorders in psychiatric patients.
Irene Richard, Christopher O'Brien, Roger Kurlan.
Section 2: Antipsychotics.
Chapter 4: Pharmacology of typical and atypical agents.
Gary Remington, Shitij Kapur.
Chapter 5: Acute Drug-induced Dystonia.
Michael F. Mazurek, Patricia I. Rosebush.
Chapter 6: Drug-Induced Parkinsonism.
Joseph H. Friedman, Martha E. Trieschmann, Hubert H. Fernandez.
Chapter 7: Acute Akathisia.
Author: Lenard A. Adler, John Rotrosen, Burt Angrist.
Chapter 8: Neuroleptic Malignant Syndrome.
Stewart A. Factor.
Chapter 9: Classical Tardive Dyskinesia.
Thomas M. Hyde, MD, Jose A. Apud, Whitney C. Fisher, Michael F. Egan.
Chapter 10: Tardive dyskinesia Variants.
Skidmore F, Weiner W, Burke R.
Chapter 11: Movement Disorders caused by atypical antipsychotics.
Karen E. Anderson.
Chapter 12: Commentary: Is Tardive dyskinesia disappearing?James Lohr, MD.
.
.
Section 3: Dopaminomimetic Drugs.
Chapter 13: Dyskinesia induced by levodopa and dopamine agonists in Parkinson's disease.
John G. Nutt, Matthew Brodsky.
Chapter 14: Stimulant Drugs.
Anthony E. Munson, Juan Sanchez-Ramos, William J Weiner.
Section 5: Other Drugs.
Chapter 15: Antidepressants.
Marie L. Moro-de-Casillas, David E. Riley.
Chapter 16: Anticonvulsants.
John C. Morgan, Madeline Harrison.
Chapter 17: Miscellaneous Drugs.
Daniel Tarsy
Reviews
"This well written comprehensive book provides the reader with good clinical descriptions of the major movement disorders and with extensively referenced data on studies and trials regarding both drugs incriminated in abnormal movements and those useful in their management."
"In conclusion, this comprehensive review of drug-induced movement disorders will be extremely useful to every clinician, particularly those interested in the fields of neurology and psychiatry."

Christian Wider, European Neurology, December 5th 2005
Features


this second edition updates and provides current state of the art clinical approaches to this subject.


includes information on drug-induced movement disorders


edited by pioneers in the field


a valuable addition to the library of any neurologist