Drug Metabolism in Drug Design and Development: Basic Concepts and Practice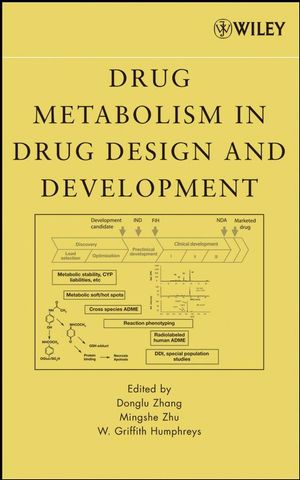 Drug Metabolism in Drug Design and Development: Basic Concepts and Practice
ISBN: 978-0-471-73313-3 November 2007 632 Pages
Description
The essentials of drug metabolism vital to developing new therapeutic entities

Information on the metabolism and disposition of candidate drugs is a critical part of all aspects of the drug discovery and development process. Drug metabolism, as practiced in the pharmaceutical industry today, is a complex, multidisciplinary field that requires knowledge of sophisticated analytical technologies and expertise in mechanistic and kinetic enzymology, organic reaction mechanism, pharmacokinetic analysis, animal physiology, basic chemical toxicology, preclinical pharmacology, and molecular biology. With chapters contributed by experts in their specific areas, this reference covers:
*

Basic concepts of drug metabolism
*

The role of drug metabolism in the pharmaceutical industry
*

Analytical techniques in drug metabolism
*

Common experimental approaches and protocols

Drug Metabolism in Drug Design and Development emphasizes practical considerations such as the data needed, the experiments and analytical methods typically employed, and the interpretation and application of data. Chapters highlight facts, common protocols, detailed experimental designs, applications, and limitations of techniques.

This is a comprehensive, hands-on reference for drug metabolism researchers as well as other professionals involved in pre-clinical drug discovery and development.
Preface.
Contributors.
Part I: Basic Concepts of Drug Metabolism.
1. Overview: Drug Metabolism in the Modern Pharmaceutical Industry (Scott J. Grossman)
2. Oxidative, Reductive, and Hydrolytic Metabolism of Drugs (F. Peter Guengerich)
3. Conjugative Metabolism of Drugs (Rory Remmel, Swati Nagar and Upendra Argikar)
4. Enzyme Kinetics (Timothy S. Tracy)
5. Metabolism-Mediated Drug-Drug Interactions (Hongjian Zhang, Michael W. Sinz, and A. David Rodrigues)
6. Drug Transporters in Drug Disposition, Drug Interactions, and Drug Resistance (Cindy Q. Xia, Johnny J. Yang, and Suresh K. balani)
7. Regulatory Considerations of Drug Metabolism and Drug Interaction Studies (Xiaoxiong Wei and Mingshe Zhu)
Part II: Role of Drug Metabolism in the Pharmaceutical Industry.
8. Drug Metabolism Research as an Integral Part of the Drug Discovery Process (W. Griffith Humphreys)
9. Role of Drug Metabosim in Drug Development (Ramaswamy Iyer and Donglu Zhang)
Part III: Analytical techniques in Drug Metabolism.
10. Applications of Liquid Radiochromatography Techniques in Drug Metabolism Studies (Mingshe Zhu, Weiping Zhao, and W. Griffith Humphreys)
11. Application of Liquid Chromatogrpahy/Mass Spectrometry for Metabolite Identification (Shuguang Ma and Swapan K. Chowdhury)
12. Introductin to NMR and Its Application in Metabolite Structure Determination (Xiaohua Huang, Robert Powers, Adrienne Tymiak, Robert Espina, and Vikram Roongta)
Part IV: Common Experimental Approaches and Protocols.
13. Determination of Metabolic Rats and Enzyme Kinetics (Zhi-Yi Zhang and Laurence S. Kaminsky)
14. Protocols for Assessment of In vitro and In vivo Bioactivation Potential of Drug Candidates (Zhoupeng Zhang and Jinping Gan)
15. Reaction Phenotyping (Susan Hurst, J. Andrew Williams, and Steven Hansel)
16. Analysis of In vitro Cytochrome P450 Inhibition in Drug Discovery and Development (Magang Shou and Renke Dai)
17. Testing Drug Candidates for CYP3A4 Induction (Gang Luo, Liang-Shang Gan, and Thomas M. Guenthner)
18. ADME Studies in Animals and Humans: Experimental Design, Metabolite Profoling and Identification, and Data Presentation (Donglu Zhang and S. Nilgun Comezoglu)
Index.
""I highly recommend this book to anyone interested in drug metabolism."" (Journal of Medicinal Chemistry, 2008)