Drugs and Crime: Theories and Practices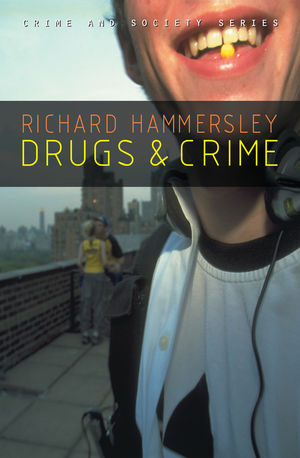 Drugs and Crime: Theories and Practices
ISBN: 978-0-745-69728-4 January 2015 Polity 224 Pages
Download Product Flyer
Download Product Flyer
Download Product Flyer is to download PDF in new tab. This is a dummy description. Download Product Flyer is to download PDF in new tab. This is a dummy description. Download Product Flyer is to download PDF in new tab. This is a dummy description. Download Product Flyer is to download PDF in new tab. This is a dummy description.
Description
Why are we so concerned about drugs and crime? Is the relationship between drug-taking and criminal behaviour as straightforward as it is sometimes made to appear? What should be done about the problem?
This thought-provoking book argues that much current thinking about drugs and crime is simplistic and misguided, because it fails to take into account the complex social and psychological contexts that underpin the relationship between drug or alcohol problems and crime. In clear and accessible language, it reviews existing explanations of the links between drugs and crime, and assesses the practical approaches currently being taken to tackle the problems involved.

Key topics covered include:



The kinds of substance uses society finds acceptable and normal, and the reasons for these categorisations


What causes offending, drug use and drug problems across the life course

Regulating the illicit drugs industry

Addressing poverty and social exclusion, which are key drivers of drugs and crime.
Drugs and crime are of concern to us all. This textbook will be of great value to advanced undergraduate and graduate students across the social sciences and in health and social care, including those studying criminology, psychology, medical sociology, social policy, social work or criminal justice. It will also be of interest to academics, practitioners and policy makers in these fields.
Table of contents
Acknowledgements
Preface
1. Constructing the Problem of Drugs and Crime
2. What Are Drugs?
3. What Is Crime?
4. Drugs-Crime Connections
5. Drugs, Crime, Adolescence and Youth
6. Drugs, Crime and Contemporary Society
7. Prevention
8. Treatment of Drug Dependence
9. The Futures of Drugs and Crime
References
Reviews
"Written in a clear and accessible style, the book challenges many of the 'clichés, misrepresentations and stereotypes' in our everyday thinking about the drugs problem ... this text is a useful and valuable resource for students interested in social policy, criminal justice, health and addiction studies."
Times Higher Education
"This book is refreshing in its transparency ... it is a superb book and will no doubt be of use to students and academics in this field, as well as to those who want to pick up a single text to obtain an overarching view of the subject."
Drugs and Alcohol Today
"One of the first academic texts to provide a realistic and discursive analysis of the drugs/crime debate ... essential reading for academics, practitioners and policy-makers who have an interest in or who work within the area."
Health and Social Care in the Community
"With an innovative combination of scientific and phenomenological approaches this text is a breath of fresh air for students and academics alike, providing a neutral basis from which to develop thinking and research within this highly influential area of study."
The Psychologist
"This excellent book questions a lot of what we believe we 'know' about drugs and crime. Hammersley subjects the basic concepts of the field to serious and penetrating analysis, managing to present complex ideas and arguments in a concise and extremely clear way. It is superbly written, insightful, wide-ranging and intellectually stimulating."
Toby Seddon, University of Manchester
"In this book, Hammersley brings together scientific, philosophical and phenomenological perspectives in a way that has never been done before. The result is a compelling text that will give pause for thought to anyone who felt that the epistemology of the words 'drugs' and 'crime' was clear enough, and that the relationship between the two transparently obvious."
John B. Davies, University of Strathclyde
Features


Focuses on policy and practice, not just theory, making practical suggestions towards solving the problems of drugs and crime.

Will appeal not only to the central criminology market, but also to those on vocational courses, including various aspects of social care (drugs counselling, youth and community work, social work, etc.).

Offers a much more sophisticated and thoughtful presentation of the links between drugs and crime than other texts.

Very readable style – pitched at the right level for students and those with little or no background in this field.