Drums For Dummies, 2nd Edition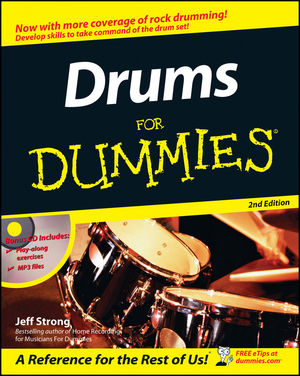 Drums For Dummies, 2nd Edition
ISBN: 978-1-118-06861-8
Apr 2011
384 pages
Description
Get down with rock, R&B, jazz, blues, funk, and Latin rhythms!
Groove to the beat in no time with this ultimate rockin' guide!
Whether you're dreaming of starting a band, striking the snares, or simply playing a hand drum, this interactive book-and-CD package makes it easy to pick up the basics. Complete with new information on contemporary rock styles and beats as well as rhythms from around the world, this guide is all you need to become a talented, versatile drummer.
Discover how to
Bang out basic rhythms --with or without sticks
Understand fundamental drumming techniques
Explore other percussion instruments
Find the perfect drum set
Purchase, tune, and maintain your drums
All this on the CD-ROM
MP3 files of each rhythm and beat that you can play along with
Rhythms for hand drums -- from the bongos and congas to the surdo, tar, and udu
Solos to amaze the other members in the band
Note: CD-ROM/DVD and other supplementary materials are not included as part of eBook file.
Introduction.
Part I: Setting a Solid Foundation.
Chapter 1: Drum Basics.
Chapter 2: I've Got Rhythm . . . .
Chapter 3: Tapping into Drumming Techniques.
Chapter 4: Getting a Handle on Hand Drumming Techniques.
Part II: Digging into the Drumset.
Chapter 5: Settling In Behind the Drumset.
Chapter 6: Rolling into Rock Drumming.
Chapter 7: Beating the Blues.
Chapter 8: Rallying Around R&B and Funk.
Chapter 9: Swinging into Jazz.
Chapter 10: Looking at Latin and Caribbean Styles.
Chapter 11: Ratcheting up Your Rock Drumming.
Part III: Dressing up Your Drumset Skills.
Chapter 12: Getting Into the Groove.
Chapter 13: Expressing Yourself with Fills and Licks.
Chapter 14: Flying Solo.
Part IV: Pounding Out the Beat: Traditional Drums and Percussion.
Chapter 15: Handling Hand Drums.
Chapter 16: Singling Out Stick-Played Drums.
Chapter 17: Shake, Rattle, and Roll: Exploring Other Percussion Instruments.
Chapter 18: Jamming with World Rhythms.
Part V: Choosing, Tuning, and Caring for Your Drums.
Chapter 19: Decision Time: Selecting a Drum of Your Own.
Chapter 20: Tuning and Maintaining Your Drums.
Part VI: The Part of Tens.
Chapter 21: Ten Ways to Expand Your Drumming Horizons.
Chapter 22: Ten Tips for Finding a Drum Instructor.
Appendix: How to Use the CD.
Index.