Due Diligence: An M&A Value Creation Approach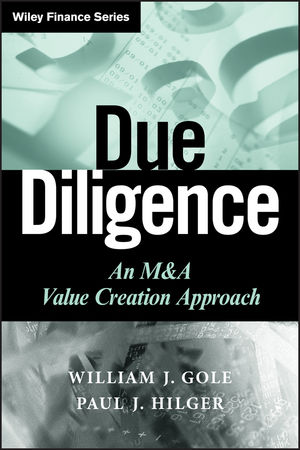 Due Diligence: An M&A Value Creation Approach
ISBN: 978-0-470-50280-8
Jul 2009
304 pages
Description
This nuts-and-bolts guide examines all aspects of an M&A due diligence--from coming to the decision to acquire a company, to who should be on the due diligence team, to the actual process and the final report and post-closing follow up. It advocates a focus on both risk mitigation and shareholder value creation, and emphasizes a holistic approach that spans from planning to post-acquisition integration. The tentative contents is: (1) Introduction; (2) Planning for value creation: growth strategy; (3) Engagement and pursuit; (4) Preparing for due diligence; (5) Validation of value: performing due diligence; (6) Assessment of due diligence results; (7) Optimizing value: post diligence negotiation; (8) Extracting value: post-transaction integration.
Preface.
About the Authors.
PART ONE: Planning.
CHAPTER 1: Introduction.
CHAPTER 2: Planning for Value Creation: Growth Strategy.
CHAPTER 3: Implementing the Growth Strategy.
PART TWO: Investigation. 
CHAPTER 4: Preparing for Due Diligence.
CHAPTER 5: Conducting the Due Diligence Review.
CHAPTER 6: Reporting on Due Diligence: Deliverables and Decisions.
PART THREE: Execution.
CHAPTER 7: Optimizing Value: Translating Due Diligence Findings into Action.
CHAPTER 8: Integration: Extracting Value and Mitigating Risk.
APPENDIX: What Is the Premerger Notification Program: An Overview.
Index.
"The authors of this book offer what they call a holistic approach to the due diligence aspects of corporate mergers and acquisitions. Although the authors briefly point to legal considerations in the M&A process, this is not a legal title. It was written by CPAs to provide practical guidance to due diligence activities. The authors accomplish this goal therefore the book would be more approporiate for an undergraduate or graduate business library than an academic law library." (Legal Information Alert, Vol 29, No 3)