Dyslexia, Speech and Language: A Practitioner's Handbook, 2nd Edition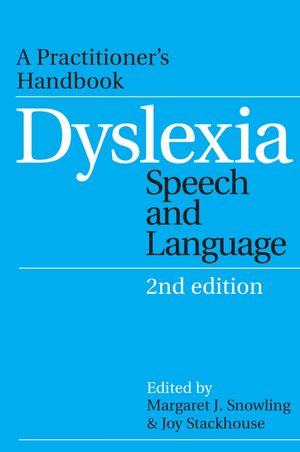 Dyslexia, Speech and Language: A Practitioner's Handbook, 2nd Edition
ISBN: 978-1-118-68775-8
May 2013
376 pages
Description
This authoritative handbook presents current ideas on the relationship between spoken and written language difficulties. It provides clinical and educational perspectives on the assessment and management of children's reading and spelling problems. The book begins with a theoretical overview.

The second edition continues the theme of linking theory and practice. It is aimed at practitioners in the fields of education, speech and language therapy, and psychology. All original chapters have been updated and new chapters are added to reflect current developments.
Preface to the Second Edition.
Preface to the First Edition.
Contributors.
Chapter 1: Language skills and learning to read: the dyslexia spectrum (Margaret J. Snowling).
Chapter 2: Speech and spelling difficulties: what to look for (Joy Stackhouse).
Chapter 3: The dyslexic brain (W.A. Lishman).
Chapter 4: The prediction and screening of children's reading difficulties (Valerie Muter).
Chapter 5: Assessing speech and language skills in the school-age child (Hilary Gardner).
Chapter 6: Assessing reading and spelling skills (Nata K. Goulandris).
Chapter 7: Assessing children's reading comprehension (Kate Nation).
Chapter 8: Short-term memory: assessment and intervention (Maggie Vance and Jane E. Mitchell).
Chapter 9: Phonological awareness and reading intervention (Peter J. Hatcher).
Chapter 10: Spelling: challenges and strategies for the dyslexic learner and the teacher (Claire Jamieson and Sarah Simpson).
Chapter 11: Developing handwriting skills (Jane Taylor).
Chapter 12: Managing the needs of pupils with dyslexia in mainstream classrooms (Janet Hatcher).
Chapter 13: The assessment and management of psychosocial aspects of reading and language impairments (Poppy Nash).
Chapter 14: Supporting language and literacy in the early years: interdisciplinary training (Jannet A. Wright and Janet Wood).
Chapter 15: Current themes and future directions (Maggie Snowling and Joy Stackhouse).
References.
Author index.
Subject index.