Dyslexia: Integrating Theory & Practice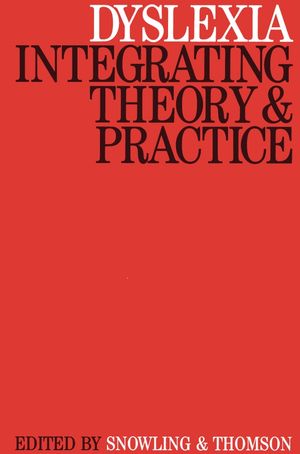 Dyslexia: Integrating Theory & Practice
ISBN: 978-1-870-33247-7
Aug 1991
352 pages
Product not available for purchase
Description
This work brings together the papers to be presented at the Second International Conference of the British Dyslexia Association. This conference is intended to examine a variety of aspects of dyslexia, within the following general themes - education, language, biological bases, cognition, development of literacy and numeracy and and social and behavioural elements. The contreibutors are specialists in their fields.
Contributors.
Acknowledgements.
Editorial.
Part 1: Biological bases.
Chapter 1 Genetics and Dyslexia: an overview - John C.DeFries.
Chapter 2 Neurobiological issues in dyslexia - Drake D. Duane.
Chapter 3 Vision and language - John F. Stein.
Chapter 4 EEG topographical mapping and laterality measures in dyslexic children - Georgina Rippon.
Part II: The normal development of literacy.
Chapter 5 The development of reading and spelling in children: an overview - Linnea Ehri.
Chapter 6 Spelling and sound in learning to read - Nick Ellis.
Chapter 7 Metaphonological abilities and literacy - Jose Morais.
Chapter 8Recent work on reading and spelling development - Usha Goswami.
Part III: The definition, nature and prevalence of dyslexia.
Chapter 9 The theoretical and practical consquences of discrepancy definitions of dyslexia - Keith E. Stanovich.
Chapter 10 On determining the prevalence of dyslexia - Tim R. Miles.
Chapter 11 Phonological and visual segmentation problems in poor readers - Rhona Brown and Frances Watson.
Part IV: Intervention: theoretical and practical issues.
Chapter 13 Dyslexia: the obvious and hidden speech and language disorder - Joy Stackhouse and Bill Wells.
Chapter 14 Visual dyslexia/auditory dyslexia: is this a valuable distinction? - Elaine Miles.
Chapter 15 Is medicinal treatment of dyslexia advisable - Colin Wilsher.
Part V: Intervention: empirical studies of teaching.
Chapter 16 The remediation of reading comprehension difficulties.
Chapter 17 The beneficial effect of accelerating reading rate: on dyslexic readers' reading comprehension - Zvia Breznitz.
Chapter 18 The teaching of spelling using techniques of simultaneous oral spelling and visual inspection - Michael Thomson.
Part VI: Intervention: the practical skills of dyslexic teaching.
Chapter 19 Factors to consider when designing a test protocol in mathematics for dyslexics - Steve J Chinn.
Chapter 20 Mathematics and dyslexics - after basics what then? - Anne Henderson.
Chapter 21 Communication and study skills at primary level - Patience Thomson.
Chapter 22 Curriculum-based study skills - Virginia Kelly.
Chapter 23 The road to reading: basic skills to college allowances - Arlene W. Sonday.
Chapter 24 Setting up a learning programme for adult dyslexics - Cynthia Klein.
Chapter 25 The dyslexic child's transfer of learning from the individual less to work in the classroom - Ann Cooke.
Chapter 26 The use of tape-recorders to develop speaking and listening skills - Jeanne Reilly.
Chapter 27 Pupil's self-evaluation as an aid to teaching handwriting - Jane Taylor.
Chapter 28 A multisensory approach towards reading music - Margaret Hubicki.
Index.