E-Business and ERP: Rapid Implementation and Project Planning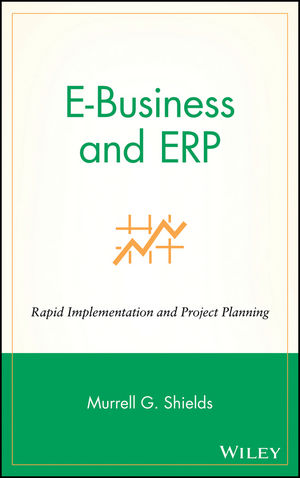 E-Business and ERP: Rapid Implementation and Project Planning
ISBN: 978-0-471-40677-8
May 2001
288 pages
Description
Proven strategies for companies seeking to accelerate an ERP implementation
Almost all large and midsize corporations worldwide will be involved in implementing enterprise resource planning and/or e-business applications over the next two to three years. This is the only book that discusses how to implement a rapid ERP system and shows how e-business is impacted by the implementation of an ERP system. This book also provides valuable tried and true methods of keeping the project under or within budget. A quality ERP transaction foundation is a prerequisite for taking advantage of many of the new e-business opportunities that executives have placed high on their list of priorities. This valuable guide examines the strengths and weaknesses of ERP and shows when rapid implementation is not appropriate. The book also provides outsourcing alternatives and the use of application service alternatives, and shows how e-business is impacted by the implementation of an ERP system.
Murrell G. Shields (McLean, VA) is the Director of Management Solutions and Services and National Leader of Technology and Infrastructure Services at Deloitte & Touche.

Original Price:$250.90
Purchased Together:$200.95
save $49.95
Why Most Implementations Should Be Rapid But Are Not.

Rapid Implementation Roadmap: What Is the Implementation Process?

Selecting the Right Package.

Managing a Rapid Implementation.

People Issues in Implementation.

Making Implementations Business and Process Driven.

Technology Support Issues.

Project Accelerators.

Trends and Implications.

Conclusions and Final Thoughts.

Index.
""this is a useful book for any organisation thinking of implementing a new ERP system"" (Sunday Business, 26 August, 2001)

""...useful guide...extensive exploration...give you lots of useful advice and assistance..."" (Supply Management, 18 October, 2001)

""...does provide a comprehensive overview of how an ERP implementation should be planned and managed..."" (Information Age, December 2001)