E-Health, Telehealth, and Telemedicine: A Guide to Startup and Success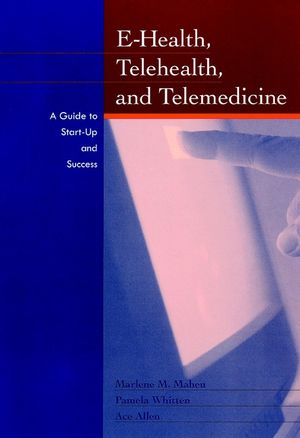 E-Health, Telehealth, and Telemedicine: A Guide to Startup and Success
ISBN: 978-0-787-95903-6 February 2002 Jossey-Bass 400 Pages
Description
E-Health, Telehealth, and Telemedicine is a hands-on resource that shows how communication technologies can be designed, implemented, and managed to help health care professionals expand and transform their organizations. Step by step the authors reveal how to introduce innovative communication tools to a wide range of health care settings. This indispensable book contains a wealth of information, suggestions, and advice about program development, ethical, legal and regulatory issues, and and technical options.
Foreword (
Evan Melrose, M.D.
).
Preface.
The Authors xvii
1 History, Definitions, and Current Applications.
2 From Telemedicine and Telehealth to E-Health.
3 Telecommunication Technologies in Health Care.
4 Clinical Applications.
5 Special Settings.
6 Computerization of Medical Records and E-Health Services.
7 Privacy, Confidentiality, Security, and Data Integrity.
8 Legal and Ethical Issues.
9 Malpractice and Risk Management.
10 A Beginner's Blueprint: How to Get Started.
11 Research: Issues, Methods, and Outcomes.
12 Visions into the Future of Health Care.
Appendix A: Tips from the Experts.
Appendix B: Vendor Agreements: A Primer.
Appendix C: Videoconferencing Room Requirements and Etiquette.
Glossary.
Resources.
References.
Subject Index.
Name Index.
"The authors bring diverse expertise to the book." (
E-Streams
, 3/02)
"Having read this book, you are now well enough informed to plan what you want to do, how you want to do it, and when." (APA Review of Books, 2003)