E-learning Strategies: How to Get Implementation and Delivery Right First Time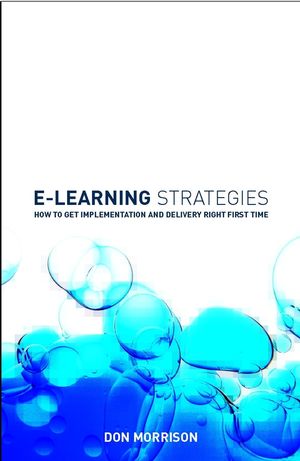 E-learning Strategies: How to Get Implementation and Delivery Right First Time
ISBN: 978-0-470-84922-4
May 2003
426 pages
Description
As more than 90% of spending on the Internet comes from brick and mortar companies it is these operations that will form the client base for e-learning. This book shows those companies how to get e-learning implementation right first time. Don Morisson explores and explains the whole implementation continuum - strategy, vendor selection, technology, implementation, culture change, content development and delivery. Most importantly he stresses that the success or failure of an e-learning initiative is directly related to the underlying strategic thinking. Written for a more mature, second generation e-learning market the book provides a practitioner's handbook to both guide the novice and inform the veteran.
* Focuses on the reader's needs
* Focuses on the strategic issues of e-learning
* Informed by key business drivers
* Supported and endorsed by PWC
Readership: Senior managers including CEOs, CIOs, CLOs, HR Directors, middle management responsible for implementing and/or delivering e-learning, consultants
Introduction.
Part I: E-Learning Primer.
Chapter 1: Defining Terms:Get Comfortable with E-Learning.
Chapter 2: The New Learning Landscape:E-Learning Is Here to Stay.
Chapter 3: ROI, Metrics, And Evaluation:How Can We Tell If We're Getting It Right?
Chapter 4: The E-Learning Cycle:Once Is Not Enough.
Part II: Learning Strategy.
Chapter 5: Business Drivers:The Real Reasons for Implementing E-Learning.
Chapter 6: E-Learning Strategy:Dramatically Improve Your Chance of Success.
Part III: Implementation.
Chapter 7: The Project Team:Who You Need … What They Do.
Chapter 8: Infrastructure:Denial Isn't an Option.
Chapter 9: Vendor Relationships:Good Partners Help You Learn and Move Fast.
Chapter 10: Learning Management Systems:The Engines of E-Learning.
Chapter 11: Testing:Mission-Critical, Not Nice to Have.
Part IV: Delivery.
Chapter 12: Multi-Channel Delivery:Leveraging the Learning Value Chain.
Chapter 13: Learner Support:Learning With the Aid of a Safety Net.
Chapter 14: Developing Curricula:Signposted Paths to Performance Improvement.
;Chapter 15: E-Learning Standards:Protecting Investment and Leveraging Technology.
Chapter 16: Instructional Design:Must Try Harder.
Chapter 17: The Content Development Process:Managing E-Learning's Payload.
Part V: Case Studies.
Chapter 18: PwC Consulting:Integrating Learning and Knowledge.
Chapter 19: BP:Embedding an E-Learning Capability.
Chapter 20: The Royal Bank of Scotland Group:Delivering in an Immature Market.
Chapter 21: The Dow Chemical Company:High Commitment, High ROI, High Volume.
Part VI: Future Directions.
Chapter 22: Future Directions:Where E-Learning Is Headed.
Appendix.
Appendix 1: E-Learning Newsletters.
Appendix 2: Online Resources.
Appendix 3: Glossary.
Index.
""…This is a comprehensive tome on e-learning…wherever you are on the e-learning journey Morrison's book should have something for your organisation…"" (E-Learning Age, May 2003)
""…is densely packed through, informative and well-researched. The direct language makes the somewhat daunting appearance surprisingly easy to digest…"" (Training Journal, September 2003)