ECG at a Glance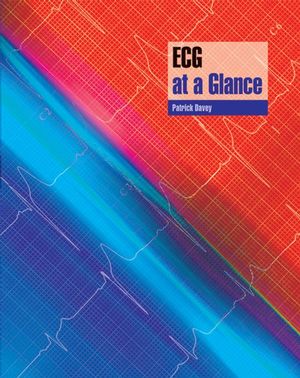 ECG at a Glance
ISBN: 978-0-632-05405-3 September 2008 Wiley-Blackwell 168 Pages
Description
Highly Commended in the Cardiology category at the British Medical Association Book Awards 2009
This brand new title in the popular at a Glance seriescombines the science behind ECGs with how to use them to guide diagnosis and treatment. These key skills are fundamental for examination of the cardiovascular system and all medical students and specialist nurses are expected to be proficient at ECG interpretation.

The at a Glance approach provides a large number of clear diagrams and example ECGs alongside concise text, putting the ECGs into a clinical context, all in easy-to-absorb double-page sections.
Table of contents
Contents.
Preface.
1 Introduction to the ECG.
2 Strengths and Weaknesses of the ECG.
Part 1 The Normal ECG.
3 Basis of the ECG.
4 The Normal P Wave.
5 The Normal QRS Complex.
6 The T and U Waves.
Part 2 ECG Abnormalities.
7 Abnormalities in the Shape of the P Wave – Left and Right Atrial Enlargement.
8 Increased QRS Amplitude.
9 Q Waves and Loss of R Wave Height.
10 QRS Axis Deviation.
11 Long PR Interval and QRS Broadening.
12 Delta Waves.
13 ST Elevation.
14 ST Depression.
15 Mild T Wave Flattening.
16 Deep T Wave Inversion.
17 QT Interval and U Wave Abnormalities.
Part 3 Clinical Syndromes.
18 Acute Chest Pain.
19 Chronic Chest Pain.
20 Acute Breathlessness.
21 Chronic Breathlessness.
22 Palpitations.
23 Syncope.
24 Hypertension.
25 Shock.
26 Stroke.
27 Emotion and the ECG.
28 Sudden Cardiac Death.
Part 4 Diseases.
29 Acute Coronary Syndromes.
30 Non-ST Segment Elevation Myocardial Infarction.
31 ST Segment Elevation Myocardial Infarction.
32 Aortic Valve Disease and Hypertrophic Cardiomyopathy.
33 Mitral Valve Disease.
34 Cardiomyopathy and Myocarditis.
35 Pulmonary Hypertension.
36 Congenital Heart Disease.
37 Endocrine Disease and Electrolyte Disruption.
38 Psychological Disease and its Treatment.
39 Genetic Pro-arrhythmic Conditions.
Part 4 Tachyarrhythmias.
40 Distinguishing Supraventricular From Ventricular Tachycardia.
41 Narrow Complex Tachycardia.
42 Atrial Ectopic Beats.
43 Atrial Fibrillation.
44 Atrial Flutter.
45 Atrioventricular Nodal Re-entrant Tachycardia.
46 Atrioventricular Re-entrant Tachycardia.
47 Ventricular Ectopics.
48 Non-sustained Ventricular Tachycardia.
49 Monomorphic Ventricular Tachycardia.
50 Polymorphic Ventricular Tachycardia.
51 Ventricular Fibrillation.
Part 5 Bradyarrhythmias and Related Diseases.
52 Sinus Node Disease.
53 Left Bundle Branch Block.
54 Right Bundle Branch Block.
55 First Degree Atrioventricular Block – Long PR Interval.
56 Second Degree Atrioventricular Block.
57 Atrioventricular Block – Third Degree Heart Block.
Part 6 Pacemakers.
58 Pacemakers – Basic Principles.
59 Anti-bradycardic Pacemakers.
60 Anti-tachycardic and Heart Failure Devices.
Part 6 ECG-based Investigations.
61 External and Internal Loop Recorders.
62 Tilt-table Test and Carotid Sinus Massage.
63 Twenty-four Hour ECGs.
64 The Exercise Stress Test.
65 Invasive Electrophysiological Studies.
Self-assessment Case Studies: Questions.
Self-assessment Case Studies: Answers.
Index
Reviews
"This is a refreshing new book in the already crowded field of ECG interpretation books." (
Doody's Reviews
, May 2009)
Pre-publication reviews:

'Very thorough list of contents, broken down logically into sections....this is a very accessible book that is easy to read from cover to cover.' - Postgraduate Medical Student, Warwick University

'Once again I have been impressed by the level of input and comprehension into each chapter. I have no doubt that my medical students will be carrying around ECG at a Glance as much as they already carry around Medicine at a Glance! Could I be cheeky and ask for a copy or 2 when the book is finally printed! ' - Consultant Cardiologist & Electrophysiologist, James Cook University Hospital, Middlesbrough
Features
A new addition to the at a Glance series - ideal for use on clinical attachments


Covers the basic principles behind ECG interpretation and diagnosis

Covers the common procedures that a student is likely to encounter on the wards

Double page format provides diagrams of ECGs with supporting text on the facing page

Ideal for medical students and specialist nurses who are expected to be proficient at ECG interpretation