ELISA and Other Solid Phase Immunoassays: Theoretical and Practical Aspects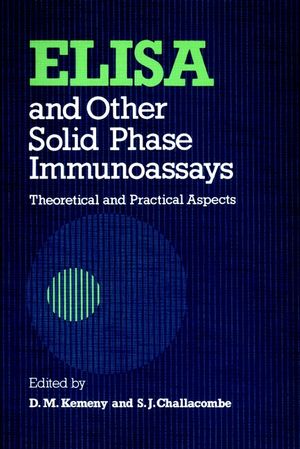 ELISA and Other Solid Phase Immunoassays: Theoretical and Practical Aspects
ISBN: 978-0-471-90982-8 January 1991 378 Pages
Description
This is a quick-reference manual on practical aspects of immunoassay. Providing a theoretical and practical basis for modern applications of solid-phase immunoassays, this text brings together experts who have used ELISA and other assays in a variety of fields. Contributors offer step-by-step guidance on how to use the various techniques involved in immunoassay. These techniques are extemely useful to laboratory-based researchers and technicians working on the detection of allergy, the AIDS virus, autoimmunity, etc. Chapters analyze the solid-phase supports used, the amplification systems, and the quantitation and affinity of antibodies and discuss the applications of assays to biology, immunology, and microbiology.
BASIC ASPECTS.

An Introduction to ELISA (D. Kemeny & S. Chanter).

Microtitre Plates and Other Solid Phase Supports (D. Kemeny & S. Challacombe).

Quantitative Aspects of Solid Phase Immunoassays (R. Hamilton & N. Atkinson).

AMPLIFICATION.

Amplification by Second Enzymes (A. Johannsson & D. Bates).

The Amplified ELISA (a-ELISA): Immunochemistry and Applications (J. Butler).

MOLECULAR ASPECTS.

The Role of Antibody Affinity in the Performance of Solid Phase Assays (M. Devey & M. Steward).

The Immunochemistry of Sandwich ELISAs: Principles and Applications for the Quantitative Determination of Immunoglobulins (J. Butler).

The Use of ELISA in the Characterization of Protein Antigen Structure and Immune Response (A. Pesce & J. Michael).

The Modified Sandwich ELISA (SELISA) for the Detection of IgE and Other Antibody Isotypes (D. Kemeny).

CELLULAR ELISAs.

The Solid Phase Enzyme-Linked Immunospot Assay (ELISPOT) for Enumerating Antibody-Secreting Cells: Methodology and Applications (C. Czerkinsky, et al.).

ELISA-Plaque Assay for the Detection of Single Antibody-Secreting Cells (J. Sedgwick & P. Holt).

CHEMILUMINESCENCE.

Chemiluminescence Immunoassay (I. Weeks & J. Woodhead).

APPLICATIONS TO MICROBIOLOGY.

The Use of ELISA for Rapid Viral Diagnosis: Viral Antigen Detection in Clinical Specimens (S. Chantler & A. Clayton).

The Use of ELISA for Rapid Viral Diagnosis: Antibody Detection (R. Duncan).

Application of ELISA to Bacteriology (S. Challacombe).

Appendix.

Index.