ESD: Physics and Devices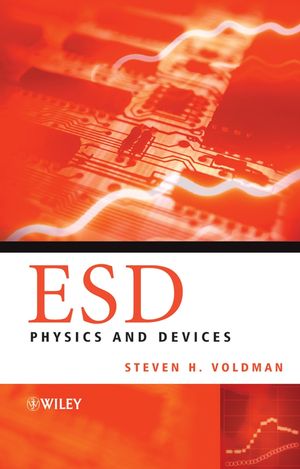 ESD: Physics and Devices
ISBN: 978-0-470-01350-2 January 2006 420 Pages
Description
This volume is the first in a series of three books addressing Electrostatic Discharge (ESD) physics, devices, circuits and design across the full range of integrated circuit technologies. ESD Physics and Devices provides a concise treatment of the ESD phenomenon and the physics of devices operating under ESD conditions. Voldman presents an accessible introduction to the field for engineers and researchers requiring a solid grounding in this important area. The book contains advanced CMOS, Silicon On Insulator, Silicon Germanium, and Silicon Germanium Carbon. In addition it also addresses ESD in advanced CMOS with discussions on shallow trench isolation (STI), Copper and Low K materials.
Provides a clear understanding of ESD device physics and the fundamentals of ESD phenomena.
Analyses the behaviour of semiconductor devices under ESD conditions.
Addresses the growing awareness of the problems resulting from ESD phenomena in advanced integrated circuits.
Covers ESD testing, failure criteria and scaling theory for CMOS, SOI (silicon on insulator), BiCMOS and BiCMOS SiGe (Silicon Germanium) technologies for the first time.
Discusses the design and development implications of ESD in semiconductor technologies.
An invaluable reference for EMC non-specialist engineers and researchers working in the fields of IC and transistor design. Also, suitable for researchers and advanced students in the fields of device/circuit modelling and semiconductor reliability.
About the Author.
Preface.
Acknowledgements.
1. Electrostatics and Electrothermal Physics.
2. Electrothermal and Methods of Analysis ESD Models.
3. Semiconductor Device Physics and ESD.
4. Substrates and ESD.
5. Wells and Sub-collectors and ESD.
6. Isolation Technology and ESD.
7. Drain Engineering, Salicides and ESD.
8. Dielectrics and ESD.
9. Interconnects and ESD.
10. Silicon on Insulator (SOI) and ESD.
11. Silicon-Germanium and ESD.
12. Nanostructures and ESD.
Index.
""…this is a good device book about ESD. Many useful equations are derived and explained."" (IEEE Circuits & Devices, January/February 2006)