Early Childhood Assessment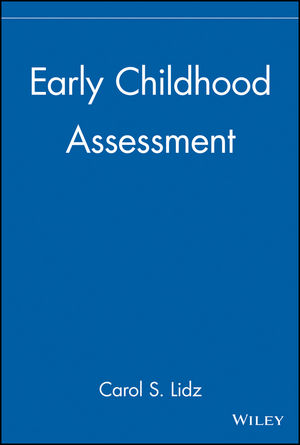 Early Childhood Assessment
ISBN: 978-0-471-26930-4 December 2002 313 Pages
Description
A new guide to conducting more comprehensive and meaningful psychological assessments of young children

Early Childhood Assessment presents a thorough, step-by-step approach to the comprehensive psychological assessment of young children. In addition to covering major psychological tests, this invaluable resource includes specific guidelines and formats for interviewing parents and other caregivers, observing children and caregiver-child interaction, conducting dynamic assessments, writing reports, and evaluating outcomes of recommended interventions.

Dr. Lidz's approach encourages a broad range of observation with an overarching objective of completing a picture of the "whole" child, from family life to social-emotional and neuropsychological functioning. She leads the reader through each step of a comprehensive assessment, touching on the major data sources necessary for a full understanding of the child within different environments. Throughout the book, Dr. Lidz advocates best assessment practices that reflect the interests of children and families.

Features useful information on:
* Conducting initial interviews and observations for setting the course of the assessment
* Using standardized and nonstandardized approaches to generate both qualitative and quantitative data
* Viewing children and families within their cultural contexts
* Integrating assessment data sources to generate meaningful recommendations and readable reports


Plus:
* Includes unique chapters on play, observation of parent-child and teacher-child interactions, and dynamic assessment


Early Childhood Assessment is a valuable tool for professionals and students who are concerned about the richness and complexity of children's development within their families and communities.
Supplementary Materials.
Chapter 1: In the Beginning . . . .
Interviewing.
Developmental History.
Screening.
Risk and Resilience.
Assessment.
Summary.
Suggested Activities.
Chapter 2: Observing Children, Programs, and Teachers.
Issues of Observation.
Observing Children.
Observing Programs.
Observing Teachers.
Limitations.
Summary.
Suggested Activities.
Chapter 3: Families, Homes, and Cultural Contexts.
The Family as a System.
Parenting a Child with Special Needs.
Cultural Issues.
Conducting a Family Interview.
Caregiver-Child Interactions.
Some Concluding Thoughts.
Summary.
Suggested Activities.
Chapter 4: Assessment of Play.
Relevance of Play.
Historical Perspective.
Characteristics of Play.
Exploration versus Play.
Developmental Aspects of Play.
Children with Disabilities.
Assessment of Play.
Suggested Guidelines for Observing Play.
General Assessment Considerations.
Summary.
Suggested Activities.
Chapter 5: Development-, Curriculum-, and Performance-Based Assessment.
Standards.
Specific Procedures.
Le Plus Ça Change . . . .
Summary.
Suggested Activities.
Chapter 6: Dynamic Assessment.
Definition and Characteristics.
Historical-Theoretical Roots.
Prevailing Models.
A Generic Approach to Curriculum-Based Dynamic Assessment.
The Application of Cognitive Functions Scale.
Some Editorial Remarks.
Summary.
Suggested Activities.
Chapter 7: Standardized Testing.
Examples of Standardized Tests for Young Children.
Standardized Testing and Issues of Cultural and Linguistic Diversity.
Concluding Comments.
Summary.
Suggested Activities.
Chapter 8: Social-Emotional Functioning.
Social-Emotional Development.
Temperament.
Adaptive Behavior and Coping.
Peer Relations.
Functional Behavior Assessment.
Summary.
Suggested Activities.
Chapter 9: The Neuropsychological Functioning of Young Children.
The "Neuro" in Neuropsychological Assessment.
The Mental Status Exam.
Neuropsychological Assessment of Young Children.
Luria's Contributions.
Five Important Points.
Electrophysiological Procedures.
Implications for Assessment.
Summary.
Suggested Activities.
Chapter 10: Assembling, Reporting, and Evaluating the Pieces.
Writing Reports.
Linking Assessment with Intervention.
Communicating with Teachers and Parents.
Evaluating the Effectiveness of Interventions.
Final Thoughts.
Summary.
Suggested Activities.
Appendix A: National Association of School Psychologists Position Statement on Early Childhood Assessment.
Appendix B: New York Association of School Psychologists (NYASP) Guidelines for Preschool Psychological Assessment in New York State.
Appendix C: Division for Early Childhood of the Council for Exceptional Children Position Paper on Developmental Delay as an Eligibility Category.
Appendix D: National Association for the Education of Young Children Position Paper: Responding to Linguistic and Cultural Diversity: Recommendations for Effective Early Childhood Education.
References.
Author Index.
Subject Index.
About the Author.
Features step-by-step instructions for accurate, comprehensive assessment of young children.
Covers important topics such as play, parent-child interaction, and dynamic assessment that are not included in other books.