Early Detection and Cognitive Therapy for People at High Risk of Developing Psychosis: A Treatment Approach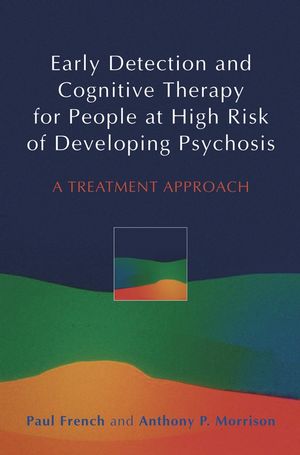 Early Detection and Cognitive Therapy for People at High Risk of Developing Psychosis: A Treatment Approach
ISBN: 978-0-470-86316-9 May 2004 164 Pages
Description
Written with clinicians in mind, this book demonstrates the use of Cognitive Behavior Therapy with individuals who are at risk of developing psychosis. Divided into three parts, the book opens with the background to the clinical trial including the rationale for the early intervention strategy, assessment strategies to identify "at risk" groups, and a review of prevention strategies. In Part II the focus is on the application of cognitive therapy for this group. Part III examines strategies for change, as well as specific issues including social isolation and relapse prevention.
List of Figures and Appendices.
About the Authors.
Foreword by Max Birchwood.
Introduction.
Acknowledgements.
Part I: BACKGROUND.
1. The Importance of Early Recognition.
2. How to Identify At-Risk Groups.
3. Which Prevention Strategy to Adopt.
Part II: COGNITIVE THERAPY FOR PREVENTION OF PSYCHOSIS.
4. Why Cognitive Therapy?
5. Engagement.
6. Theory, Assessment and Formulation.
Part III: CHANGE STRATEGIES.
7. Normalisation.
8. Generating and Evaluating Alternative Explanations.
9. Safety Behaviours.
10. Metacognitive Beliefs.
11. 'I Am Different' and Other Core Beliefs.
12. Social Isolation.
13. Relapse Prevention.
14. Conclusions.
Appendices.
References.
Index.
"…well structured and easy to digest…a valuable resource to Early Intervention teams…" (ISPS UK newsletter, No.10 January 2005)