Early Education in the Public Schools: Lessons from a Comprehensive Birth-to-Kindergarten Program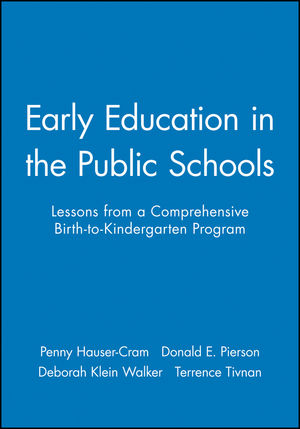 Early Education in the Public Schools: Lessons from a Comprehensive Birth-to-Kindergarten Program
ISBN: 978-0-470-63131-7 April 1991 Jossey-Bass 288 Pages
Description
"This pragmatic and visionary work provides impressive new evidence for the Anduring beneficial effecto of high-quality, family-oriented, comprehensive early education in a public school setting."
—Edward Zigler, Sterling Professor of Psychology, Yale University
Table of contents
Foreword.
Part One: The Movement Toward Earlier Education.
1. The Need for Early Childhood Programs: Changing Social Realities for Families.
The Benefits of Early Education: What Do We Know?
3. The Current Debate: Should Public Schools Be Responsible for the Very Young?
Part Two: The Brookline Early Education Project (BEEP).
4. The Origins of BEEP.
5. An Overview of the Program and Its Participants.
6. Parent Education and Support.
7. Educational Philosophy and Approach.
8. The Bilingual Component.
9. Health and Development Monitoring.
10. What Parents Gain.
11. Children's Future Success in School.
Part Three: Implications for Policymakers.
12. A Better Education for All Children.
Appendixes.
A. Questions and Issues Parents Have Raised.
B. Questions to Structure Home Visits.
C. List of Health and Developmental Measures.
D. Evaluation Data.
E. Early Education Philosophy Statement.