Earth Materials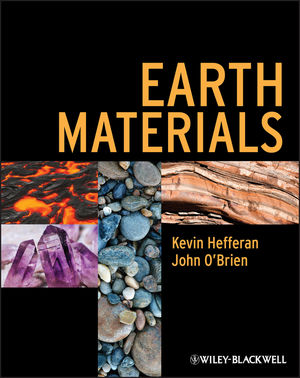 Earth Materials
ISBN: 978-1-444-39708-6 March 2012 Wiley-Blackwell 624 Pages
Description
Minerals and rocks form the foundation of geologic studies. This new textbook has been written to address the needs of students at the increasing number of universities that have compressed separate mineralogy and petrology courses into a one- or two-semester Earth materials course.

Key features of this book include:
equal coverage of mineralogy, sedimentary petrology, igneous petrology and metamorphic petrology;
copious field examples and regional relationships with graphics that illustrate the concepts discussed;
numerous case studies to show the uses of earth materials as resources and their fundamental role in our lives and the global economy, and their relation to natural and human-induced hazards;
the integration of earth materials into a cohesive process-based earth systems framework;
two color thoughout with 48 pages of four color. 
Readership: students taking an earth materials, or combined mineralogy and petrology course in an earth science degree program. It will also be useful for environmental scientists, engineering geologists, and physical geographers who need to learn about minerals, rocks, soil and water in a comprehensive framework. 
A companion website for this book is available at: www.wiley.com/go/hefferan/earthmaterials.
Preface.
Acknowledgments.
1. Earth materials and the geosphere.
2. Atoms, elements, bonds and coordination polyhedra.
3 Atomic substitution, phase diagrams and isotopes.
4. Crystallography.
5. Mineral properties and rock-forming minerals.
6. Optical identification of minerals.
7. Classification of igneous rocks.
8. Magma and intrusive structures.
9. Volcanic features and landforms.
10. Igneous rock associations.
11. The sedimentary cycle: erosion, transportation, deposition and sedimentary structures.
12. Weathering, sediment production and soils.
13. Detrital sediments and sedimentary rocks.
14. Biochemical sedimentary rocks.
15. Metamorphism.
16. Metamorphism: stress, deformation and structures.
17. Texture and classification of metamorphic rocks.
18. Metamorphic zones, facies and facies series.
19. Mineral resources and hazards.
References.
Index.
Periodic table.
List of elements.
"In recent years an increasing number of geoscience departments have elected to combine their introductory mineralogy and petrology courses into a single, one-term "earth materials" course. As a result there has been a need for a textbook that integrates both topics, and this is the niche that Hefferan and O'Brien seek to fill with Earth Materials. Their book provides a clearly written and well-illustrated overview of mineralogy and petrology that is suitable for an undergraduate audience." (Jeffrey H. Tepper, American Mineralogist, Volume 97, 2012)
"There is a pressing need for a single book that compresses the most significant aspects of material previously presented in multiple standard rigorous courses to meet the generally less demanding requirements of much of today's job market.  Hefferan and O'Brien have accomplished this task with Earth Materials.  This work should fill an important niche for lower- to intermediate- level earth and/or environmental science courses." (CHOICE, January 2011)
Key features of this book include
Equal coverage of mineralogy, sedimentary petrology, igneous petrology and metamorphic petrology
Copious field examples and regional relationships with graphics that illustrate the concepts discussed.
Numerous case studies to show the uses of earth materials as resources and their fundamental role in our lives and the global economy, and their relation to natural and human-induced hazards.
The integration of earth materials into a cohesive process-based earth systems framework
2 color throughout with a 64 pages 4 color section